Supply chain issues have delayed numerous new vehicle models, including the electric Nissan Ariya. The order books opened nearly a year ago with the deliveries expected last fall. Then … crickets.
The vehicle appears to be arriving now but in small numbers.
Built on its own EV platform — not shared with any other Nissans — the midsize five-passenger Ariya is significantly longer, lower and wider than the compact Leaf and is far more pleasing to the eye. The design more closely resembles that of a tall hatchback than a utility vehicle or so-called crossover, owing to a sloping roofline, which extends into the liftgate containing what Nissan calls a "light blade" taillight.
The front appears to have a traditional grille, but it contains sensors that feed information to the various driver-assist and dynamic-safety systems.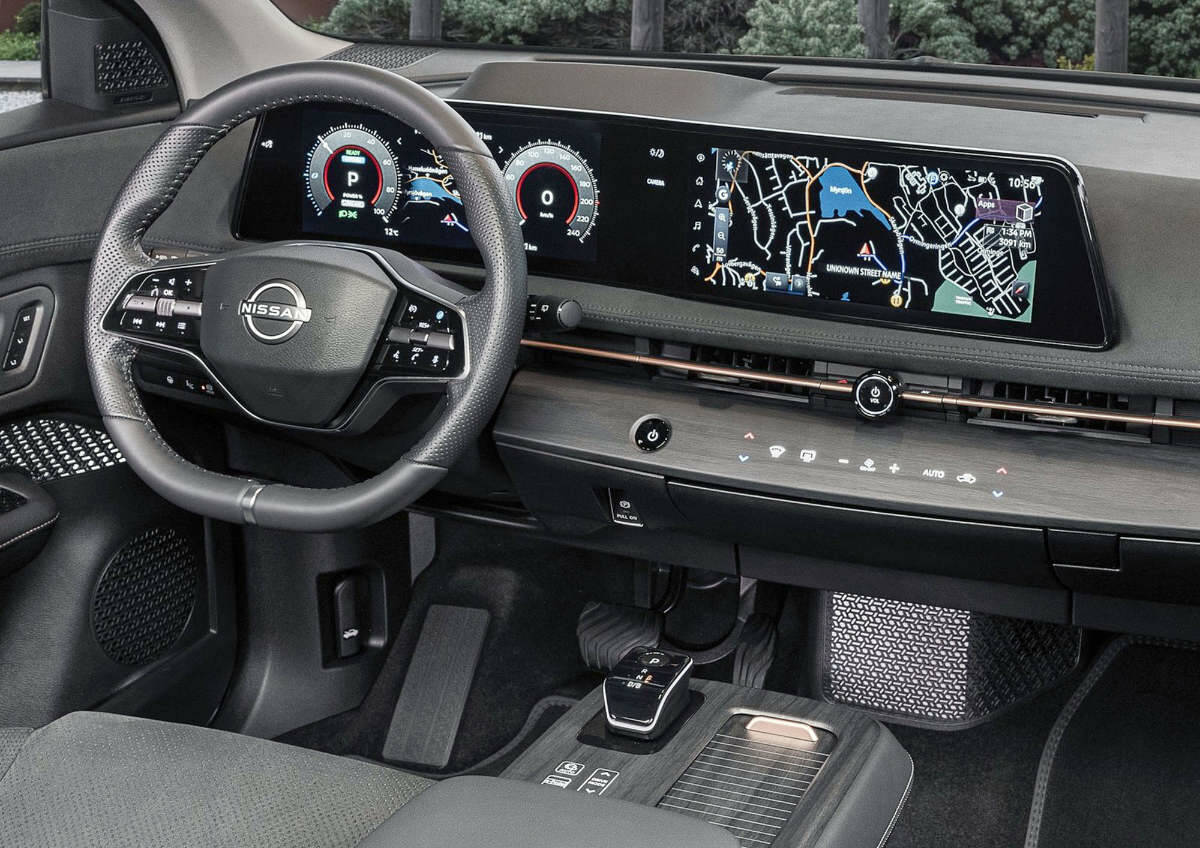 The dashboard adopts wide screens, which are of a type found in most EVs. The driver's-side 12.3-inch configurable display shows current speed plus other key data such as battery-range status and outside temperature. Beside it, the 12.3-inch infotainment screen provides phone, audio and internet connectivity (including Amazon Alexa functionality) plus navigation. Audio volume is controlled by a solitary knob positioned below the info screen and is the only such protuberance of its type. Below it are touch controls for temperature and fan speed.
As with most Nissan vehicles, the Ariya uses the automaker's patented Zero Gravity chairs, designed to help reduce driver and passenger fatigue by providing added support from the hips to the shoulders. Those seated in back receive plenty of legroom commensurate to most EVs with their low, flat floors.
The Ariya's equally low load floor provides plenty of accessible space with the split rear seat upright and in place or folded flat.
The base front-wheel-drive Ariya Engage, which in Canada lists for $55,950 including destination charges (not including any government incentives), has a single motor and a 66 kilowatt-hour battery pack. Output is rated at 214 horsepower and 221 pound-feet of torque. The estimated l/100 km equivalent works out to 2.3 in combined city/highway driving. Maximum estimated range is 345 kilometres.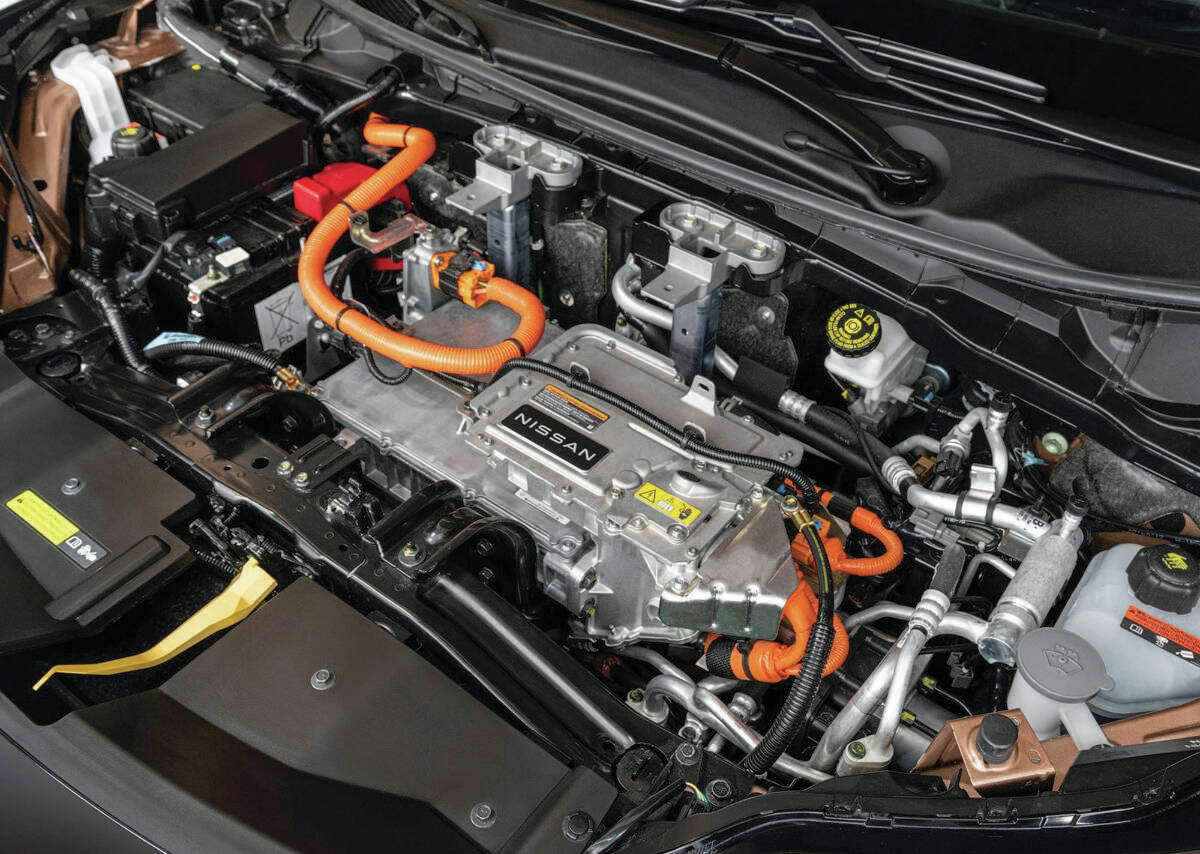 The front-wheel-drive Venture+, Evolve+, Empower+ and Premier get an 87-kWh battery pack. Horsepower increases to 238, but there's no change in torque.
Maximum ranges vary from 462 kilometres for the Empower+ to 486 km for the Venture+.
Arriving after launch is an all-wheel-drive system called e-4ORCE, which employs front and rear motors producing a net 389 horsepower and 442 pound-feet. All AWD models get the larger pack, except the Engage, but it's unclear whether the power rating for that model is different (lower).
The AWD constantly varies the torque between the front and rear wheels, depending on road conditions. It can also apply light braking to the inside front and rear wheels when turning — known as torque vectoring — to aid steering control.
The top-level Platinum trim is exclusively AWD, while it's optional for the Engage+ and Evolve+. Range is similar to the front-wheel-drive versions.
In all cases, a single-speed controller ships power to the tires.
The base Engage gets a power-adjustable driver's seat, heated steering wheel, driver's head-up info display (which projects key information onto the windshield), power-sliding centre console plus numerous active-safety technologies such as forward-collision warning, automatic emergency braking with pedestrian detection, lane-departure warning and traffic-sign recognition.
The Ariya Empower+ and Premium add Nissan's latest ProPilot Assist 2.0 hands-free system, which gives drivers a steering respite and can also make lane changes, pass other vehicles and make ramp exits on marked multi-lane highways.
The two models also get ProPilot Park. As the name suggests, it can take over the parallel-parking chores, including signaling the Ariya's intentions to nearby drivers. Once completed, the car will also apply the parking brake.
Compared with the aging Leaf, the Nissan Ariya represents a leading-edge EV that takes a something-for everyone approach in content plus battery, power and range.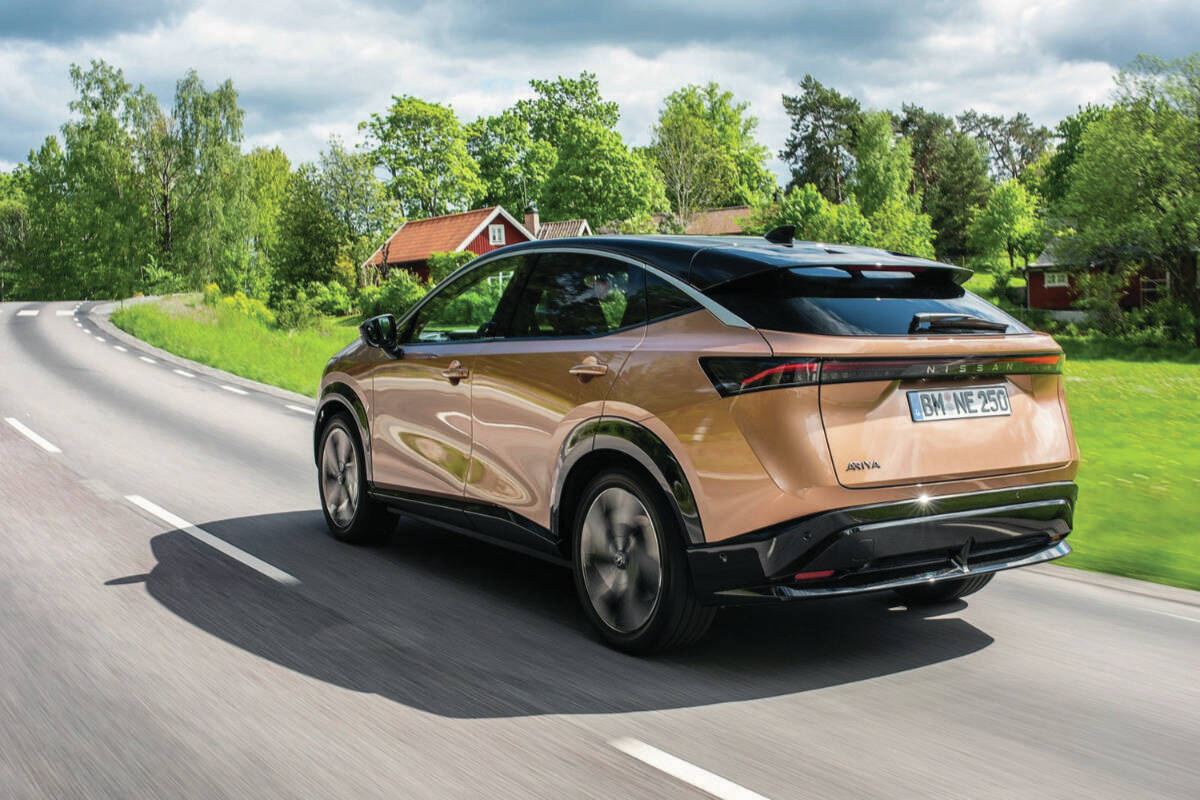 What you should know: 2023 Nissan Ariya
Type: Front- /all-wheel-drive midsize electric hatchback
Motor(s) (h.p.): Single (214, 238), dual (389)
Transmission: Single-speed controller
Market position: It took more than 10 years for Nissan to introduce a dedicated follow-up model to the Leaf electric vehicle, but the automaker remains in step with some other brands that are just now introducing EVs.
Points: Styling is conservative but relatively attractive. • Interior is similarly buttoned-down but in step with the competition. • Motor outputs and distance between charges vary greatly from minimal to more than adequate. • The variety of trim levels is likely to be confusing for buyers. • Base price is in line with several upcoming competitors.
Active safety: Blind-spot warning with cross-traffic backup alert (std.); active cruise control (std.); front and rear emergency braking (std.); inattentive-driver alert (std.); lane-departure warning (std.); pedestrian warning (std.)
L/100 km equivalency (city/hwy): 2.2/2.5 (FWD)
Base price (incl. destination): $55,950
BY COMPARISON
Chevrolet Blazer EV
Base price: $56,500 (est.)
2024 EV rides on Ultium battery platform. SS version has 557 h.p.
Toyota bZ4X
Base price: $55,000 (est.)
FWD and AWD variants; up to 400-plus kilometres of range.
Kia EV6
Base price: $48,000
Similar powertrains to the Hyundai Ioniq 5. GT model is rated at 576 h.p.
– written by Malcom Gunn, Managing Partner at Wheelbase Media
If you're interested in new or used vehicles, be sure to visit TodaysDrive.com to find your dream car today! Like us on Facebook and follow us on Instagram