Small hatchbacks make affordable fuel-sipping commuters that can tote a good amount of gear. They also serve as platforms for raucous, racing-inspired runabouts with a surfeit of horsepower and attitude. The 2023 Toyota GR Corolla is the latest member of that club.
Toyota's Gazoo Racing division previously developed the subcompact Yaris GR hatchback for Europe and Asia, but the Yaris is no longer available here, so that's a nonstarter. For North America, the Corolla hatchback fills in as a competitor to the Hyundai Veloster N, the Honda Civic Type R, the Volkswagen GTi and R hatchbacks and the Subaru WRX sedan. The GR is a similar size to all four contenders and is significantly larger than the Yaris, which means it's more practical as well as quick.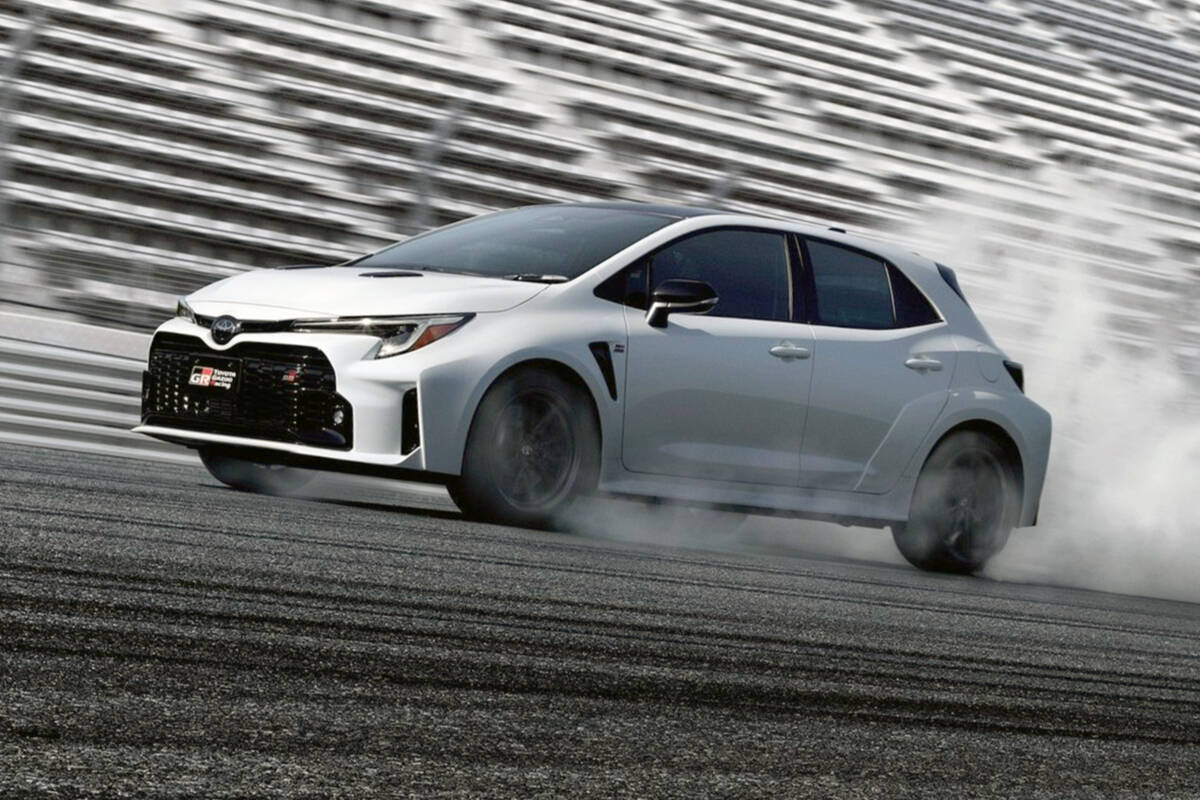 Compared with Corolla hatchback, the GR has a new nose, added air intakes and hood ducts and wider front and rear fenders. It also runs 18-inch Michelin Pilot Sport rubber mounted to 15-spoke gloss-black wheels.
The body structure is more rigid to better handle track-day rigours, and the aluminum hood and front-door panels are intended to reduce weight.
Interior fittings include GR-exclusive synthetic suede and leather-trimmed sport seats, aluminum pedals and a short-throw shifter for the six-speed manual gearbox with rev-matching downshifts. There is no automatic transmission offered. A 12.3-inch driver-information display and an 8.0-inch infotainment display (with voice activation) are also standard.
Driving all four wheels is a turbocharged 1.6-litre three-cylinder engine that pumps out 300 horsepower and 273 pound-feet of torque. That's 32 more horsepower than the similar engine in the Yaris GR (although the same peak torque), and 132 more than in the standard Corolla hatchback.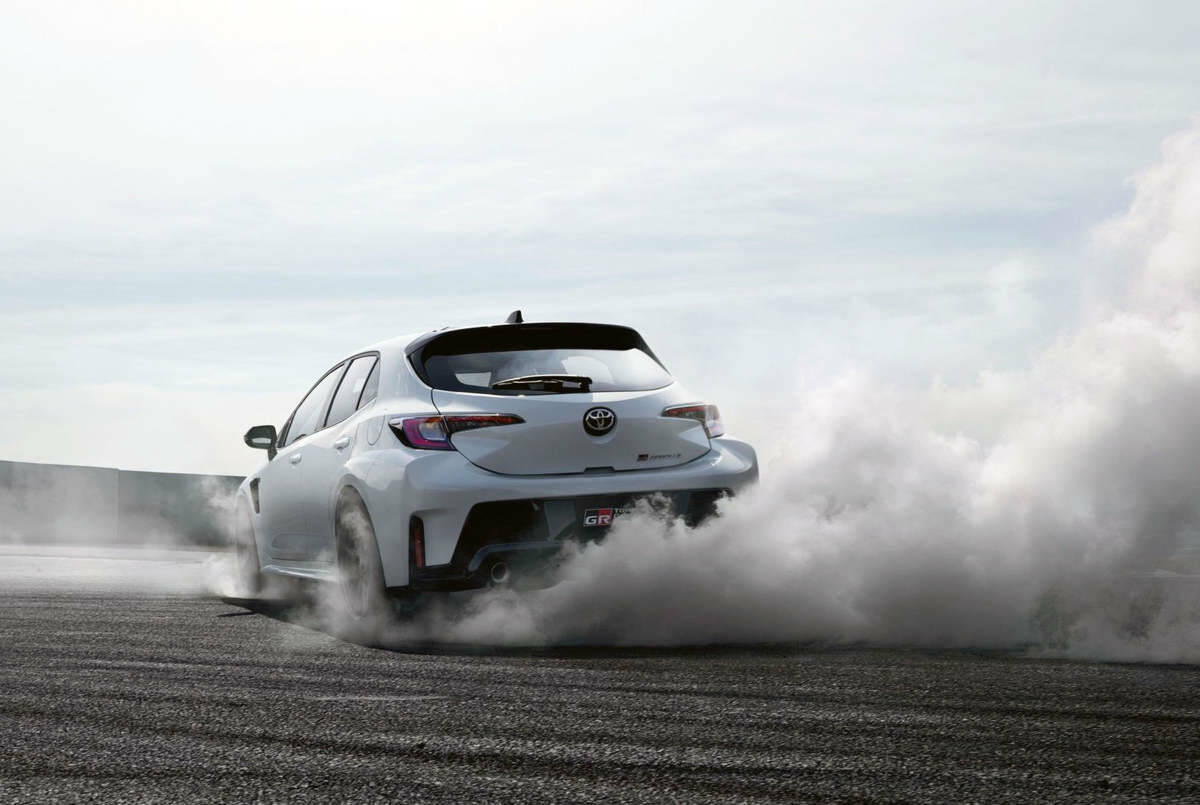 Interestingly, the turbocharger is positioned within the engine's exhaust manifold. A special three-piece muffler with stainless-steel exhaust tips increases flow, which aids engine efficiency and performance.
The AWD system offers variable (selectable) front-to-rear torque splits of 60:40 (the default setting) 50:50 or 30:70, depending on surface conditions and driver preferences.
The GR Corolla Core Grade, with a base price of $45,500, comes with an assortment of active-safety technologies, such as emergency braking, lane-departure alert and pedestrian detection.
Among the options, a Performance package adds front and rear limited-slip differentials and beefed-up brakes. An optional Technology package gets you a JBL-brand sound system and there's a Cold Weather package that includes heated front seats and steering wheel.
This would/should be a tempting upgrade for Corolla hatch buyers who want AWD and the extra power.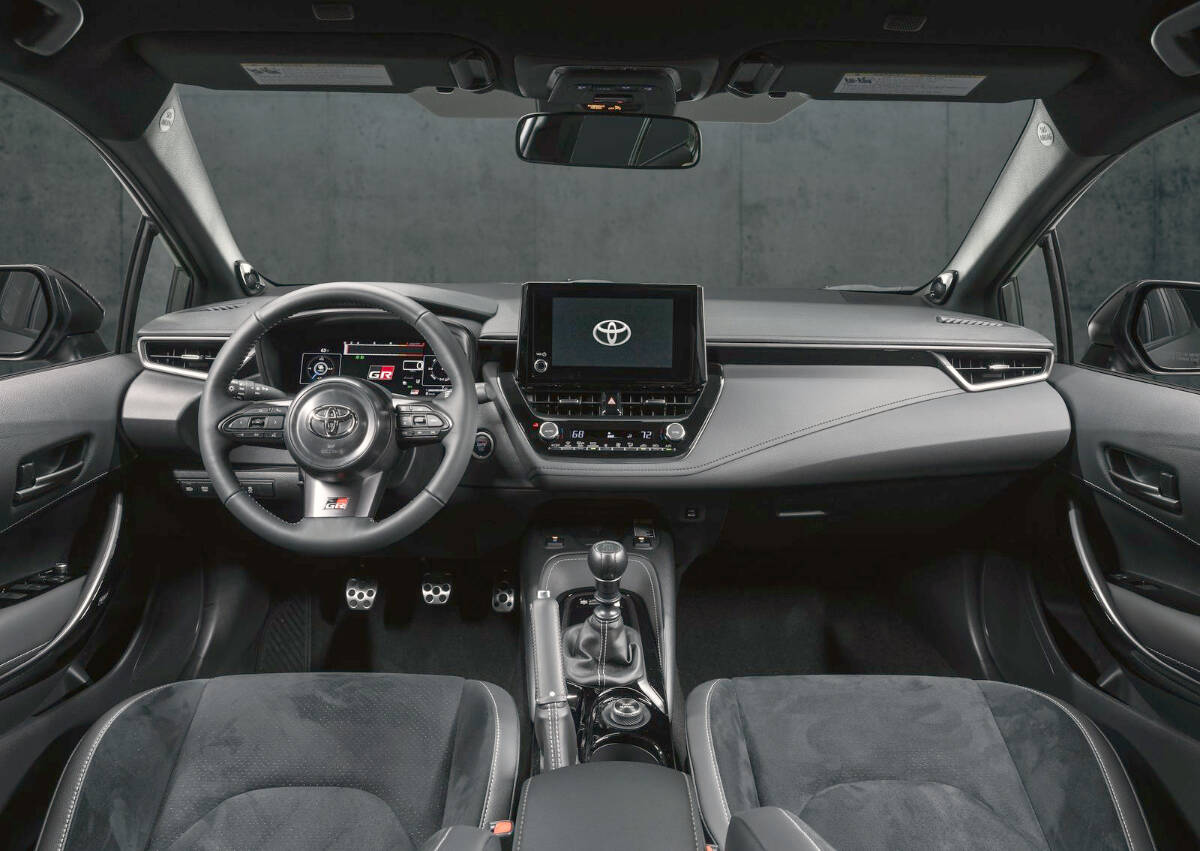 Most of these features are included in the Circuit Edition, which Toyota says will be available next spring. It comes with a unique raised (bulging) vented hood, a carbon-fibre roof (to lower the centre of gravity) and a substantial rear spoiler. The rear seat and rear wiper blade are deleted and there are lighter forged alloy wheels. The result is about a 100-pound reduction in curb weight over the Core Grade.
Lastly, the track-oriented GR Morizo Edition produces 295 pound-feet of torque, which is 22 more than the standard GR engine. Morizo is the nickname for Toyota President Akio Toyoda, who is also an active racer. Both the transmission and differential ratios have been tailored to race-course performance, and there are additional floor braces plus a rear strut brace. The high-back leather-covered front seats have slots for installing racing harnesses.
Only 200 Morizo models will be shipped to North America.
You can choose to look at the GR Corolla a couple of ways. The first is as a youth-oriented dual purpose street and track warrior, which is how Toyota intends it. In that regard, you can equip the GR to go all-in.
The second way? The base Corolla hatchback is an enjoyable, but underpowered, car that really needs all-wheel-drive to make it a more complete all-weather, four-seasons package. Well, the GR solves that, maybe without Toyota realizing it. You just have to shift the gears for yourself.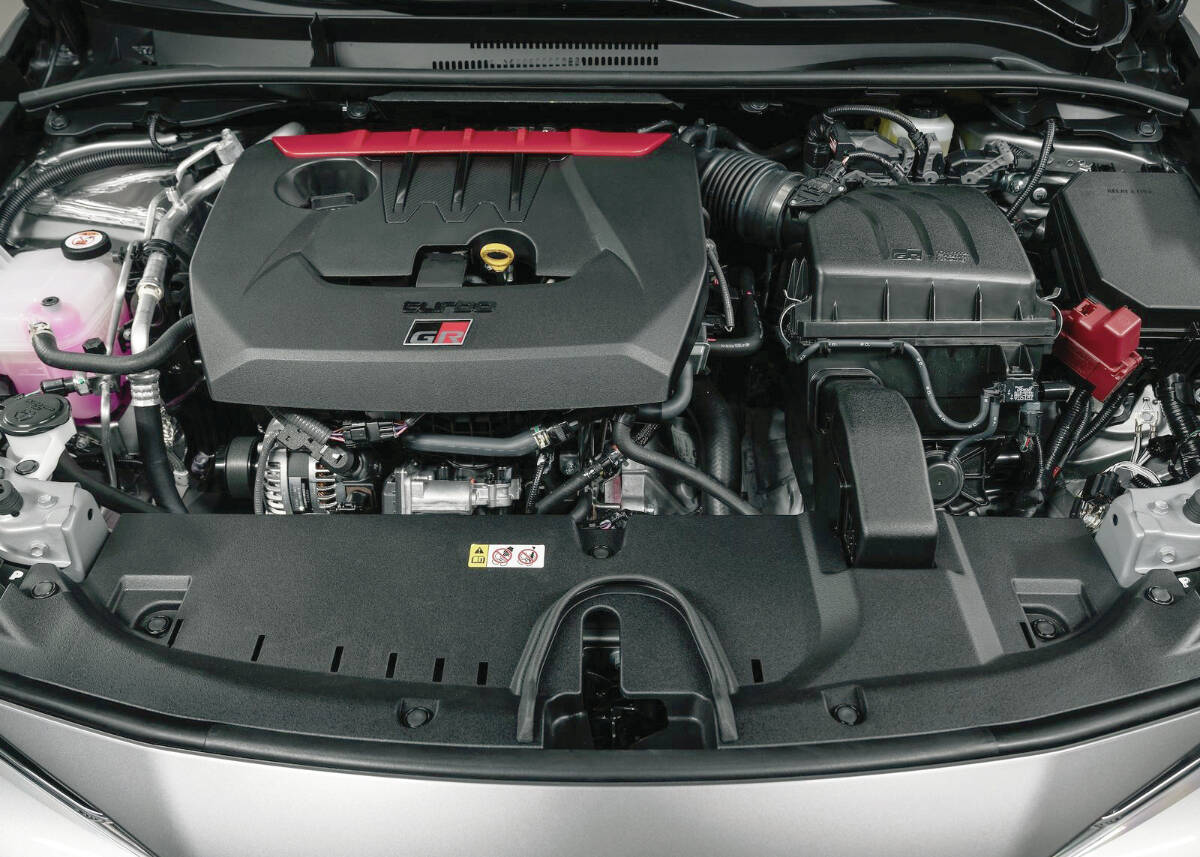 What you should know: 2023 Toyota GR Corolla
Type: All-wheel-drive compact hatchback
Engine (h.p.): 1.6-litre I-3, turbocharged (300)
Transmission: Six-speed manual
Market position: The hot-hatchback group (including one hot sedan) consists of entries from Volkswagen, Hyundai, Subaru and Honda. All provide a sporty driving experience, with crisp handling and quick acceleration.
Points: Styling adds performance enhancements to the existing design. • Unique turbocharged three-cylinder engine produces substantial power. • Upgraded suspension designed for competition-level driving. • Hard-core trim levels available, but they'll increase the price considerably. • Three-pedal proficiency is a must.
Active safety: Blind-spot warning with rear cross-traffic backup alert (opt.); automatic emergency front braking (std.); inattentive-driver alert (n.a.); lane-departure warning (std.); pedestrian detection (std.).
L/100 km (city/hwy): n.a.
Base price (incl. destination): $45,500
BY COMPARISON
Hyundai Veloster N
Base price: $40,400
The only Veloster model offered has 275 h.p. and front-wheel-drive.
Honda Civic Type R
Base price: $51,800
New 2023 hatch uses the same turbo I-4 as before, with 300-plus h.p.
Volkswagen Golf R
Base price: $49,250
Pricier than the Golf GTI, but it comes with AWD and 41 more h.p.
– written by Malcom Gunn, Managing Partner at Wheelbase Media
If you're interested in new or used vehicles, be sure to visit TodaysDrive.com to find your dream car today! Like us on Facebook and follow us on Instagram