Slow-changing institutions and unaffordable housing are worsening B.C.'s shortage of qualified construction workers, according to industry insiders.
The trades industry has long grappled with worker shortages, according to Casey Edge, executive director at the Victoria Residential Builders Association. But a number of problems — a big one being high housing prices — are pushing tradespeople to move where prices are cheaper.
The number of B.C. residents moving to Alberta was the highest it has been since 2001, spiking to 28,238 in 2021/22, according to Statistics Canada data from September 2022. Atlantic Canada was another popular destination; out-of-province migration to Nova Scotia and New Brunswick is at its highest point since records began in 1971/72. Migration from B.C. to Quebec was also at its highest since 1973/74 and Saskatchewan was at its highest in a decade.
It's a circular problem.
Since B.C. has labour shortages, the province won't be able to build enough housing to meet its housing needs and that gap fuels labour shortages. The Canadian Mortgage and Housing Corporation estimates that by 2030, 993,450 new housing starts are needed to reach housing affordability, which is defined as 44 per cent of monthly income in B.C. – in most provinces it's 30 per cent. But current projections show the best-case scenario is 598,459, with CMHC predicting closer to 423,450 starts in that period, less than half of what's needed.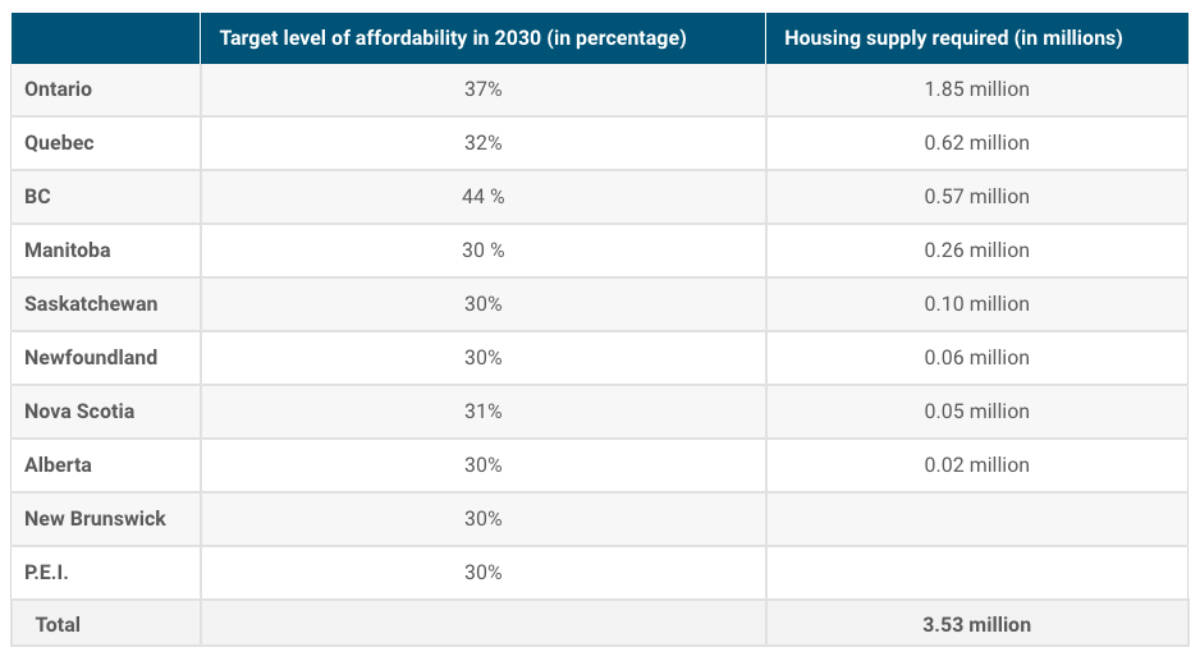 CMHC also calculated the number of workers per unit under construction in B.C. was at an all-time low of 3.3 workers per unit in 2021, compared with an average of 6.1 from 1996 to 2021. Ontario and Quebec also saw all-time lows in 2021 compared with the same period, but Alberta was only slightly below its average of 8.6 workers per unit at 8.4.
Progress on solutions is hard to come by.
Edge said the province's Housing Supply Act – a new law allowing the province to set housing targets for municipalities – is "absolutely necessary," and should go some way to addressing municipal cultures that slow down development.
"When you build a home a certain way in, let's say, Colwood or wherever, and then you try to build that same home in Saanich, you get different interpretations of the building code, you have two different things. Why is that? Because you have a different municipal culture, and they interpret the building code differently. That all adds to costs, delays, costs, expense."
"The B.C. government could be dealing with one council and one official community plan with regional planning for housing, transportation infrastructure," Edge said. "Instead (in Greater Victoria), they've got to deal with 13 different official community plans."
Culture change is also needed in education, according to Edge, where longstanding biases against trades linger.
"The biggest hurdle with respect to it's not so much the funding and all the rest of it, it's actually being able to ensure that in the education system, young people have the opportunity to understand what it's like to be in the trades and the opportunities there."
Edge says often youth aren't given information about the opportunity for advancement in the trades. He said VRBA has advocated for universities and colleges to allow students to take trades courses as electives when they are studying other subjects, in theory allowing a humanities student to also work towards becoming a trained carpenter. But there's been little movement towards that, he said.
"The post-secondary school system operates in silos," he said. "Everybody I've talked to actually thinks it's a good idea. But when you're dealing with institutions, they're operated by administrative cultures and not inclined to change."
In an email, the B.C. Ministry of Post-Secondary Education and Future Skills said school institutions come up with their own curriculum, but the province does provide various funding programs to encourage people into the trades, including a new grant (announced in May) of up to $3,500 per person for eligible short-term skills training at public post-secondary institutions.
"Cohort-based programs, particularly those leading to occupations that are certified/regulated, don't usually lend themselves to people taking a single course, as curriculum is designed across courses to build students' knowledge towards a credential."
Some students can enrol in micro-credentials and other professional training programs at the University of Victoria. None are specific to the trades, but a school spokerson said "we continue to explore new partnership opportunities with businesses and organizations to offer career-specific micro-credentials and professional programs that may be of interest to a variety of industries.