This is article is part of a series that the Revelstoke Review is doing this market season. The Review will highlight the vendors that make the Farmers' Market special.
The U.S.E.D. booth at Revelstoke Local Food Initiative's Farmers' Market is no stranger to causing a delay in the steady stream of marketgoers as customers stop and stare at the creative reuse of seatbelts.
"Recycling is the only way…there's no slowing things down," said Kehler.
Trevor Kehler is the creative mind behind U.S.E.D, a local Revelstoke business that uses recycled seatbelts and other materials to create wearable accessories. Regular marketgoers will be familiar with Kehler's work, as he's been selling his bags for 20 years. Kehler spoke about how he started U.S.E.D. and why. He also explained what the market means to him.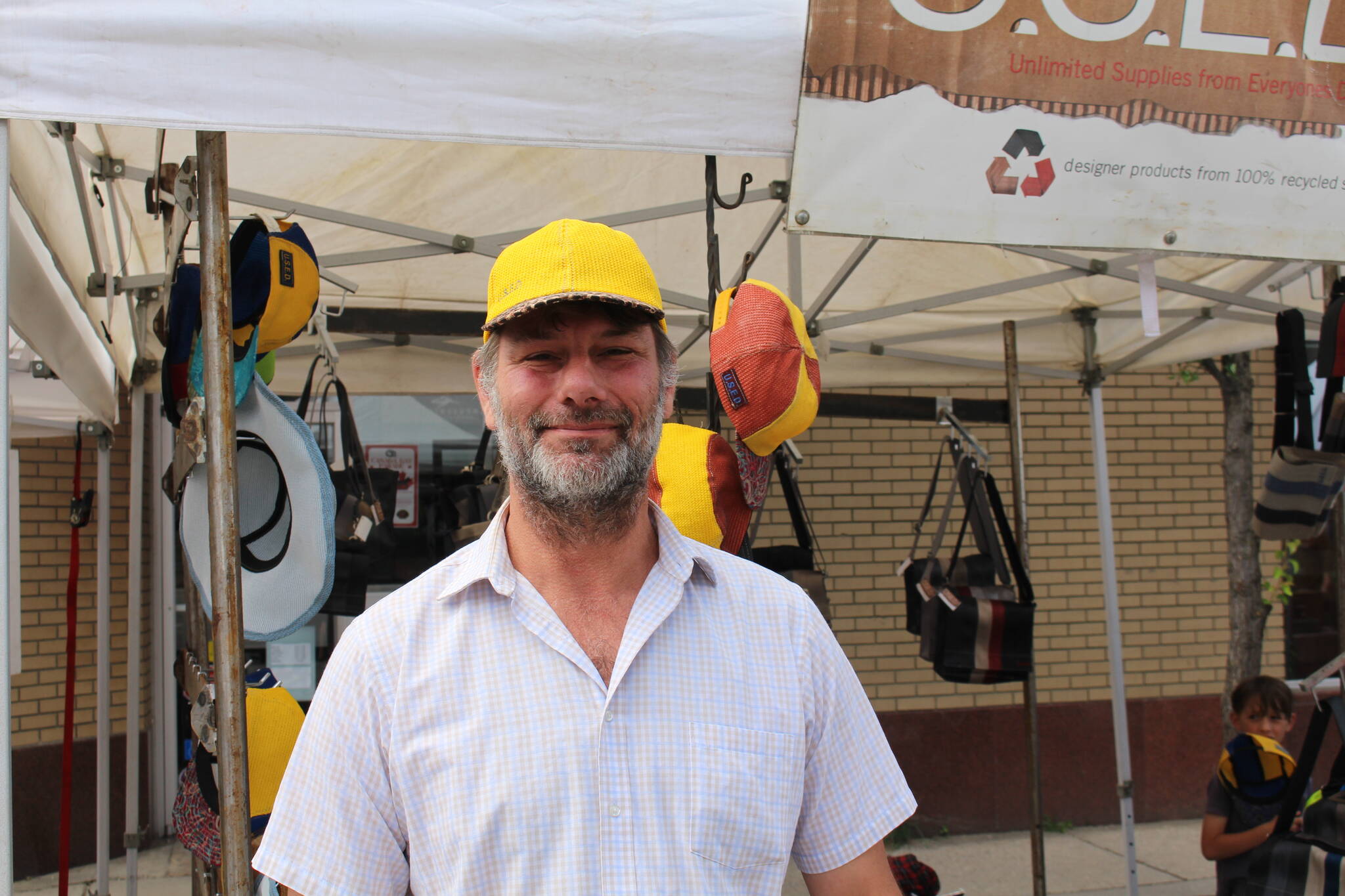 Kehler often greets his customers with their first name, and sometimes a hug. He's able to do so because he knows the community, and his product inspires repeat customers. This attribute was on display on Saturday (June 17) when an unprovoked testimonial helped Kehler secure a sale.
A group of women from Quebec were examining the bags and considering purchasing one when a former customer emerged from the river of people flowing by to offer their support for Kehler's product. The testimonial seemed to work as the customers left with a new bag.
The name became an acronym after Kehler ran into problems trademarking the name USED. Not wanting to drop the name that he'd already been sewing into the bags, he turned it into an acronym.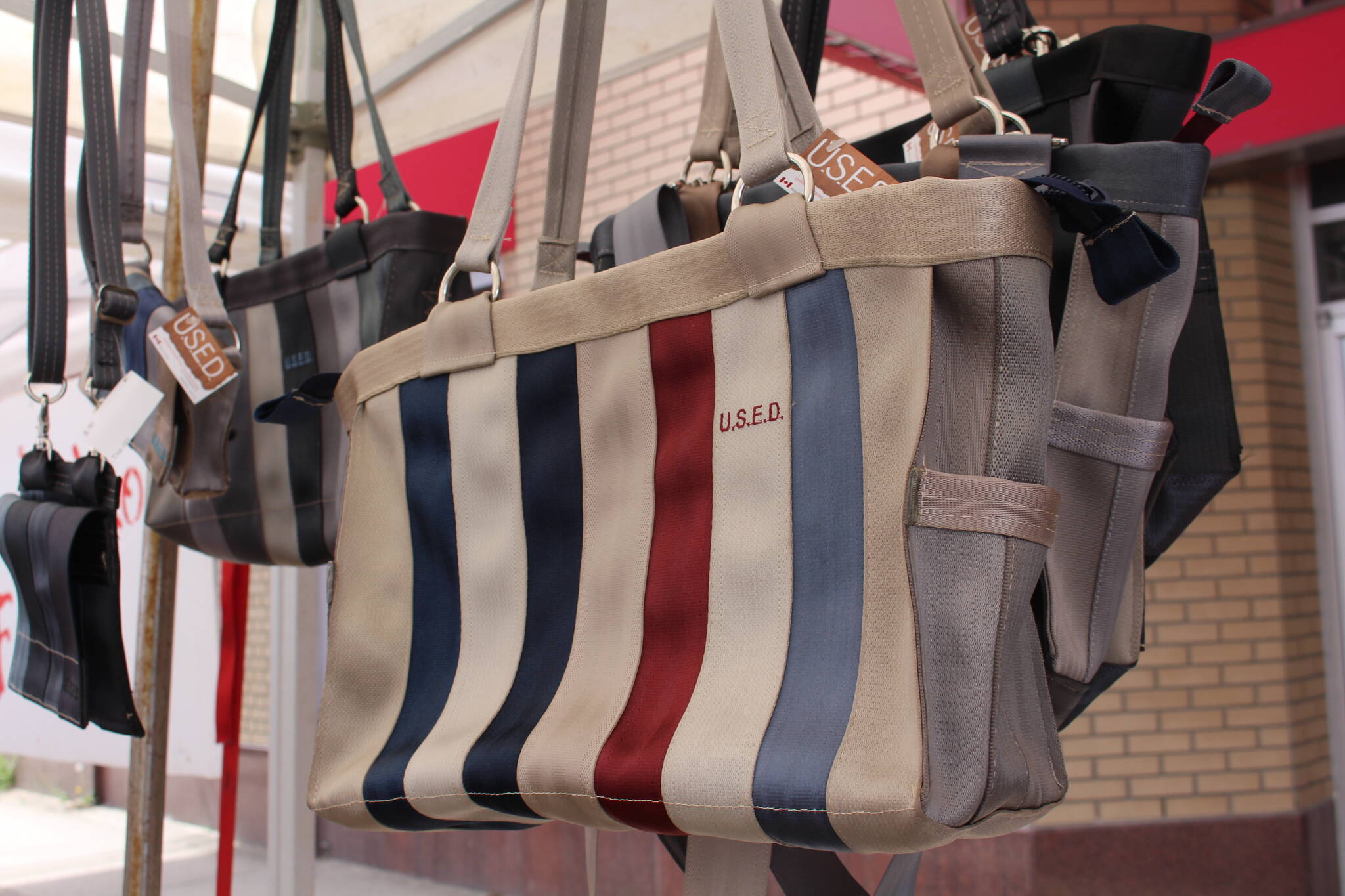 "Unlimited supplies from everyone's disgards," explained Kehler, adding "it's not quite proper, but it works."
Kehler knew that he wanted a job that allowed him to work with his hands, but he didn't want to sacrifice his values. He wanted to cut down on the garbage in the world, but he wanted to have a trade and a product to sell that he was proud of.
When Volvo engineer, Nils Bohlin, invented the modern three-point seatbelt in the 1950s, it revolutionized safety in vehicles. The design was so much more effective in protecting passengers in motor vehicles that Bohlin and Volvo, despite having a patent on the design, allowed other manufacturers to use the design free of charge.
Volvo and Bohlin were forward-thinking, but they might not have considered that in the early 2000s, a young Kehler would see a seatbelt in a junkyard and breathe a new life into the life-saving material and help reduce waste.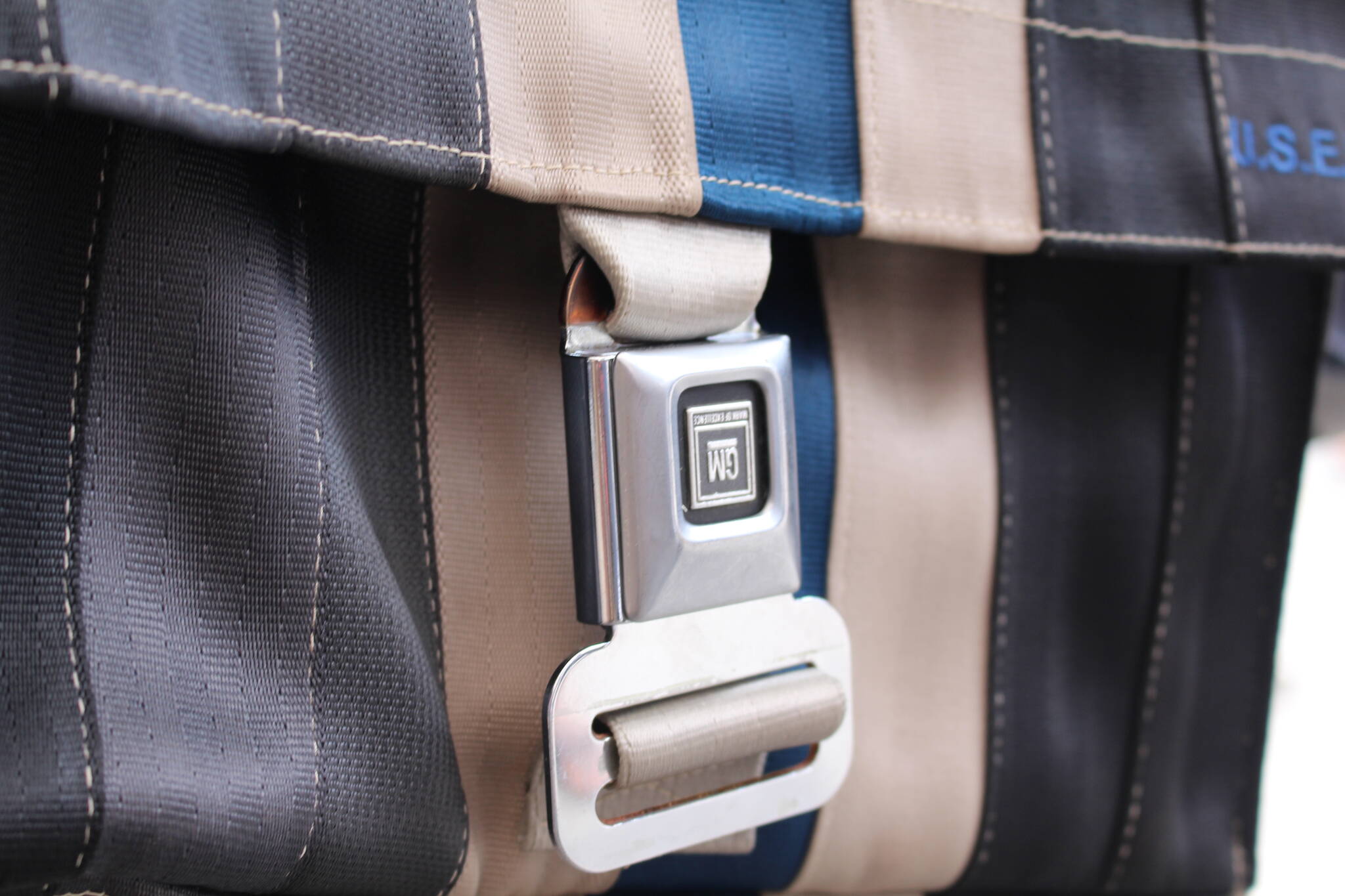 Working at a metal-shredding recycler in Calgary, Kehler watched as nearly 70 per cent of a vehicle was recycled, but learned quickly that the belts weren't. He spied an opportunity and created a partnership to get the seatbelts for his products.
Kehler got his first sewing machine in Golden but was unsure how to use it. A young lady in town who did upholstery helped teach him the ropes –or rather– the threads.
20 years later, Kehler is no longer a stranger to the sewing machine, and in fact reckoned he was more familiar with it than with people most days which is one reason he appreciated the market.
"I work by myself, and I live by myself," said Kehler, adding that "it's easy to become a recluse."
Selling at the market brings him back into the community and gives him a chance to flex his social skills.
Kehler said a day like Saturday (June 17) was a good example of what he considers a perfect day at the market. With some sun peeking through the clouds, giving him the chance to showcase his sun hats, it also makes for a pleasant outing for customers who want to take their time wandering through.
As they walk through, Kehler said he's often asked how long it takes to make his products.
"The answer usually is 45 minutes and 20 years," said Kehler with a laugh.
The future of U.S.E.D. is still unbuckling, but Kehler aims to continue to partner with individual companies and create new items from their waste. He gave an example of how he works with local business, Shade Sails Canada, to turn their discarded materials to create his hats.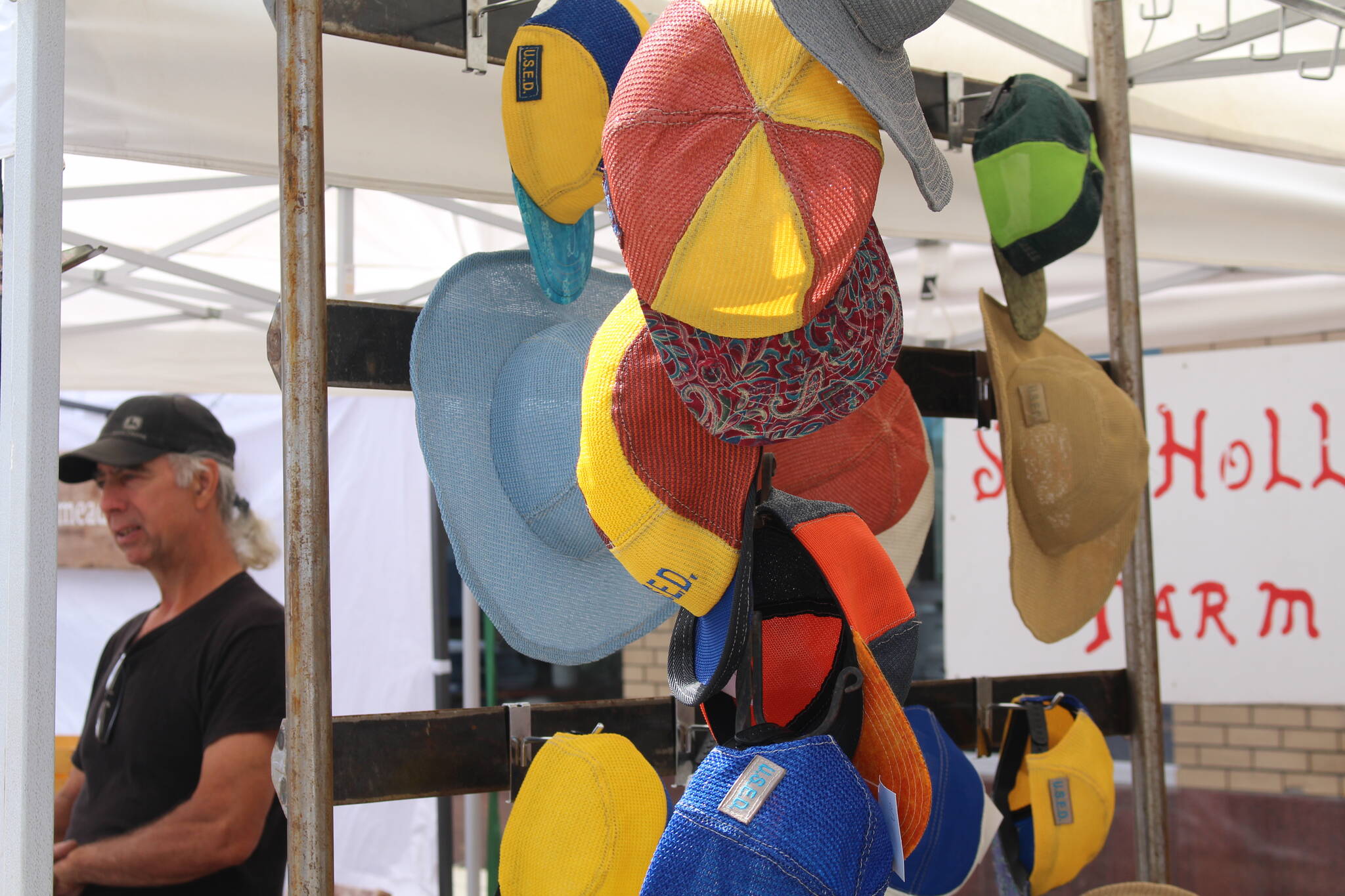 A construction company in Ontario sends their old safety harnesses to Kehler for him to turn into soft-sided toolboxes that he sends back to the company.
The market gives Kehler a place to sell his product and a social outlet, but he also explained how it fits with other goals of his business to foster a sense of community and keep cash alive.
As cars develop and change, Kehler expects the percentage of recycled materials from vehicles to decrease due to the increased use of plastics.
Kehler broke down 20 years of his business and environmental consciousness to a simple message that he continues to spread.
"Pick up the garbage and do something with it because it's easy to do it. You don't need a brand-new thing to do the things that you do every day."
---
@ZacharyDelaney
zach.delaney@revelstokereview.com
Like us on Facebook and follow us on Twitter and subscribe to our daily and subscribe to our daily newsletter.