A group of North Okanagan-Shuswap residents are looking to prevent logging in a 255-hectare area of land near Gardom Lake by having it recognized as a protected area.
At its July 20 meeting, the Columbia Shuswap Regional District received a presentation by biologist Wayne McCrory on the proposed Mallory Ridge Protected Area. Accompanying McCrory in the gallery was a large number of people behind the effort to protect the area of Crown land that is a popular hiking spot.
McCrory told the board Mallory Ridge was recognized as an important conservation area and proposed as a regional park in 2000 and 2008.
"The local residents thought the area was protected, but once the logging company came up with some logging plans a few years ago it was a bit of a wake-up call," said McCrory. "It hadn't been protected so they called us to do an ecological assessment and these are the results.
"Overall, we concluded it's a very bio-diverse area, it's sort of an island landscape with locally significant wildlife … and species-at risk values. It provides core security and breeding habitat for many species."
The board received a copy of a preliminary ecological and conservation assessment study of Mallory Ridge conducted by McCrory and fellow biologist Amber Peters. In it, the two found the majority of the trees in the area to be in the mature age classes (5 to 8, with 8 being old growth), "mostly Douglas fir with an average age of 115 years. McCrory and Peters note there are currently no provincial Old Growth Management Areas within the Mallory Ridge study area.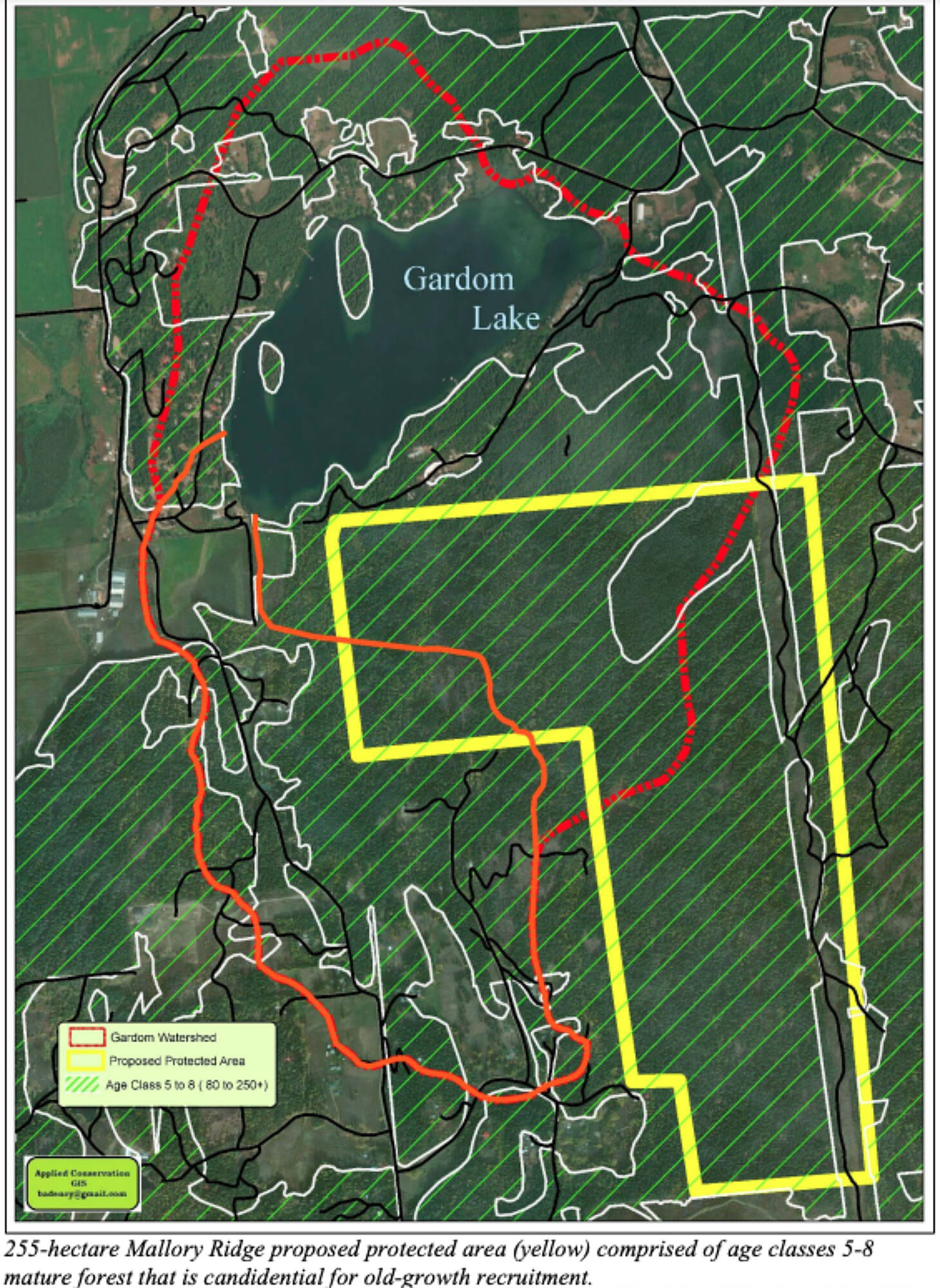 "However, we found that the proposal is under serious threat from a clearcut logging plan by Tolko Industries Ltd. of some 74 hectares, including new logging roads," reads the study. "Approximately 42 hectares of proposed logging are within the sensitive Gardom Lake watershed."
The study notes 151 provincially and/or federally-listed animal species "are expected to occur or have already been confirmed in the study area, including 41 provincially red listed species, 91 blue and 13 yellow listed species, as well as six that have no provincial status but are endangered, threatened or of special concern federally."
"If planned logging goes ahead, it is our professional opinion that significant habitat fragmentation and loss of biodiversity values of this small island of diverse habitats, remnant of an ancient transition ecosystem, will be the outcome," McCrory and Peters conclude in the study. "This will include a loss of forest security habitat for wildlife that could also lead to a local increase in human-bear conflicts and reduced values to ungulates."
While the board didn't make any decision following the presentation, its electoral area directors recognized the importance of the proposed protected area, including Area D director and retired biologist Dean Trumbley.
"We're really lucky to be sitting on this gem," said Trumbley. "We understand that it is Crown land, everybody in this room understands this… but this area really needs a champion because it's literally one logging practice away from being forever lost…
"I can tell you, (as) a biologist that has practised the better half of 30 years in this area, we're losing areas like this faster than we're gaining them because these areas take literally hundreds of years to develop."
Trumbley said he was particularly shocked by the amount of provincial and federal listed species that reside in the Mallory Ridge area.
"We're not looking for anything right now, but for me, as an area D director, as well as a biologist, and I think around this table, this needs to become a priority for us on future agenda items, on what we can do to help move this thing forward."
For more information, visit gardomlakestewards.com.
---
lachlan@saobserver.net
Like us on Facebook and follow us on Twitter
---