It was the lifeline that Bonnie Baker needed - a place to call home.
Baker, a pensioner for the past 15 years, has just moved into Hadgraft Wilson Place on Bertram St. After having to leave her rural home. She has been on a waitlist for a year with no options, given her limited income.
"Somebody pointed me to Pathways and my life changed," she said. "I had a dismal future and now I'm excited about my years to come."
The six-storey building is a partnership between the city, senior levels of government, and BC Housing. It's operated by Pathways Abilities Society and provides 68 homes for seniors, people with low to moderate incomes and people living with disabilities.
Baker attended a media event on June 16 at Hadgraft Wilson Place, along with B.C. Housing Minister Ravi Kahlon and Kelowna Mayor Tom Dyas.
Kahlon also spoke about the second phase of the Pleasantvale housing development on Cambridge Ave. and the redevelopment of the Alexandra Gardener Safe House. He said the projects are a reflection of the cooperation that happens in Kelowna.
"Understanding that we have to come together to find innovative ways to build the housing that all people need. What's happened here is very special."
Pleasantvale will provide 75 rental units for individuals with low to moderate incomes, families, seniors and people living with disabilities. It's expected to be completed in 2025.
Alexandra Gardener Safe House, operated by NOW Canada, will replace the existing 20 shelter beds and provide an additional 24 units of transitional housing for women and children in need of a safe place to stay.
"Today's announcement celebrates what can be achieved by working together across levels of government with community partners to tackle the housing needs within communities," said Dyas.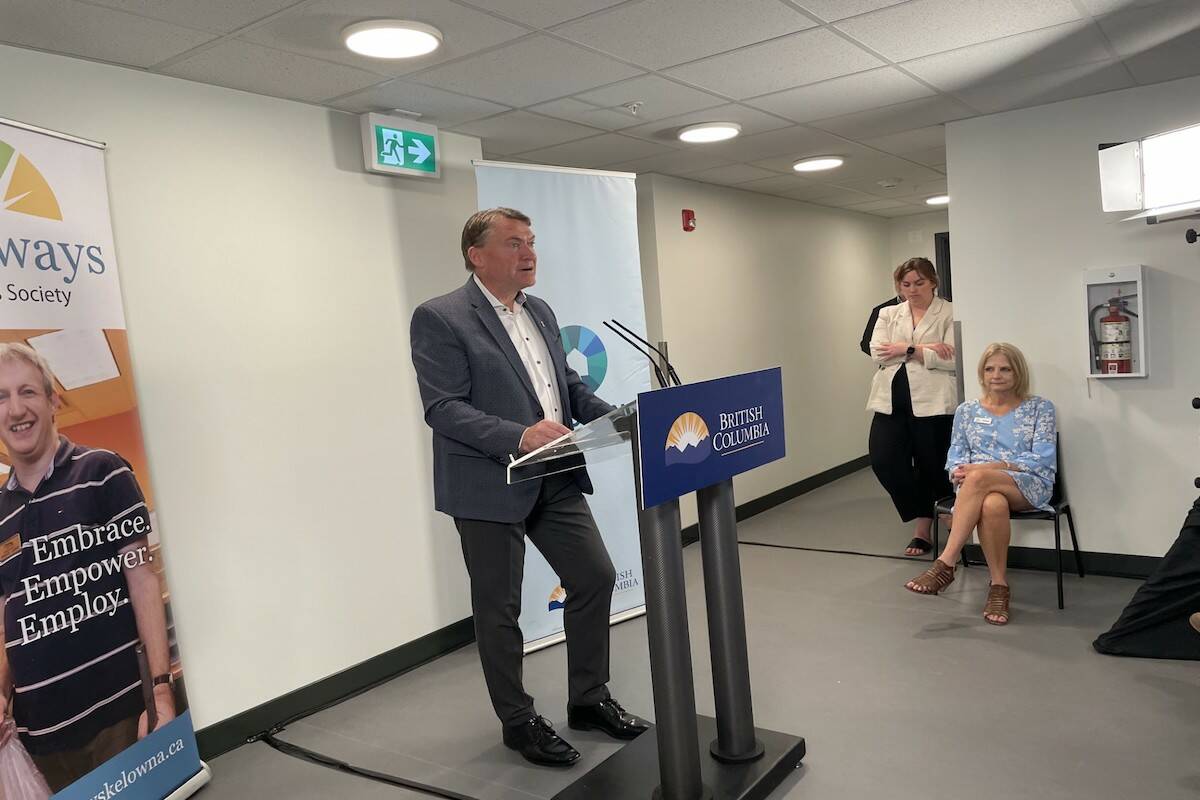 The mayor added the city remains engaged with government and community partners.
"So that everyone can have a roof over their head, a place to call home and access to compassionate supportive care that they may need depending upon their individual circumstances."
Hadgraft Wilson Place is named after two Kelowna families that have long history of supporting Pathways Abilities Society.
The province, through BC Housing, is also working with the city to explore redevelopment opportunities at 1451 and 1469 Bertram St.
More information about potential uses of the site will be shared with the community this fall.
READ MORE: Development in Kelowna's Upper Mission moves forward despite public pushback
---
@GaryBarnes109
gary.barnes@kelownacapnews.com
Like us on Facebook and follow us on Twitter and subscribe to our daily and subscribe to our daily newsletter.