Emotions, regret and a rush to make a decision all came out of a public hearing on the future of Kelowna Springs golf course Tuesday night (June 20).
Council chambers was packed with golfers, orchardists, farmers and others who were there to find out if the property would be kept as future industrial land, or changed back to private recreational. After 4.5 hours of presentations and discussion, council voted 8-1 for the latter.
More than 400 pages of correspondence had been received on the matter, which staff believed to be the most ever for a public hearing.
Speakers pleaded with council to consider the potential environmental impact of allowing industrial development, including loss of greenspace, wildlife habitat and flooding.
Others said the golf course is important to mental and social well-being and should be kept as is for generations to come. Some even urged the city to buy the property.
Owners, Denciti Developments, proposed a compromise of a nine-hole course with the rest of the property being developed. Several speakers liked the idea.
"Find a solution which assists your citizens and recognizes the practicality of business," Robert Levin told council.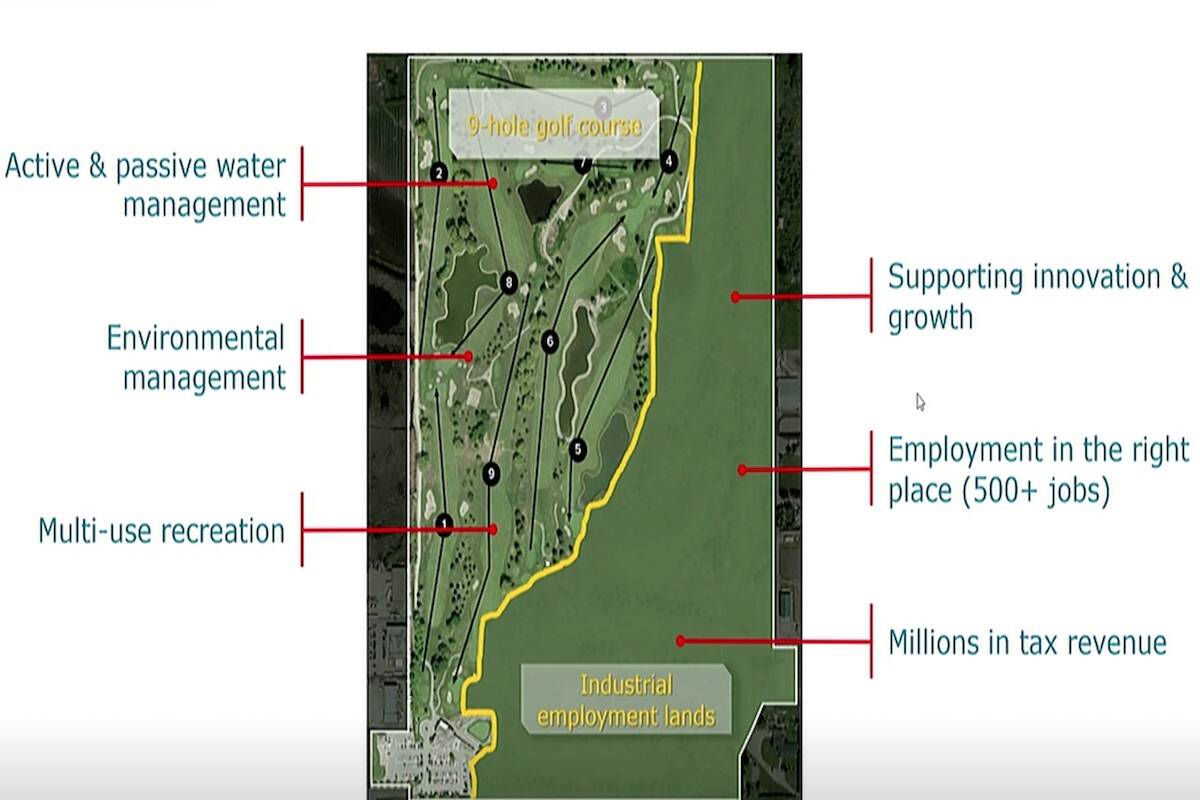 Concerns were also raised about Kelowna's Official Community Plan (OCP), which determined the future land use, and the process of getting to the public hearing. Denciti CEO Garry Fawley said in 45 years of business he has never seen an OCP treated this way.
"That a month after support there is a property singled out and then reviewed the way it has been."
Fawley added he didn't find the process to be open or fair.
Former councillor Gail Given cautioned that changing an OCP designation after being approved will have ramifications.
"I'm already hearing investors in the community being very concerned. Please be careful about this."
Coun. Luke Stack pointed out that OCP amendments are to be expected from time to time. He first pushed for the Kelowna Springs designation change after hearing from the public.
"I have to remind everyone that we were under pressure, encouragement from our former mayor to say 'hey guys, let's just get this passed.' We can go back and deal with the outstanding issues."
Stack explained that it's council's duty to revisit items that are brought to its attention by the public.
"That's exactly what we're doing here tonight."
Coun. Charlie Hodge made similar comments.
"I was on council with Mr. Stack when it got pushed into change. And it was pushed into change."
Hodge said he fought against it but finally got fed up.
"So I rolled over. I regret that day."
Coun. Loyal Wooldridge, the only vote against, said he felt the process was rushed. He noted that Denciti had asked for six months to do initial environmental studies and then bring a plan forward.
"I advocated for an October public hearing and it fell on deaf ears. If we jeopardize the confidence that investors have in our city, we can come to a screeching halt."
He added that other OCP amendments considered by council have been owner requested.
"We haven't come in and politically driven that decision. That's the difference between this OCP amendment and others."
Mayor Tom Dyas agreed with Wooldridge in that the process was rushed, but added he was proud of how council handled the public hearing.
Council's decision does not save Kelowna Springs. It will remain open for the rest of this season, but after that its future is uncertain. Former co-owner Ian Robertson, who currently retains golf operations, commended Denciti for trying to find ways to compromise.
"I have committed conceptually to sell the operational assets to one of our key staff members to continue operations if Denciti can be in a position to offer an extended lease for nine holes."
He reminded councilt that Denciti made its decision to invest in Kelowna based on existing policy.
"They have now been placed in a very difficult position without any rationale, other than what seems to be the interests of a small percentage of the community, and this is not fair from a business perspective."
Fawley released the following statement June 21.
"Through open dialogue and constructive engagement, we will get to work on a rezoning application for the property that finds a balance between recreational use and Kelowna's acute need for employment and industrial land. We remain steadfast in our commitment to deliver a project that contributes positively to the community as a whole."
---
@GaryBarnes109
gary.barnes@kelownacapnews.com
Like us on Facebook and follow us on Twitter and subscribe to our daily and subscribe to our daily newsletter.