Penticton city council will be looking at measures to deal with abandoned shopping carts.
At the Tuesday, Sept. 12 council meeting, staff are recommending a series of measures including wheel locks, geofencing and fines against grocery stores.
"The approach that is being suggested is one that is more proactive to manage the situation and deal with the unsightliness of abandoned carts," said Blake Laven, the city's director of development services.
"There is an underlying societal issue at play but we have found examples from other communities that show a path forward to improving the situation, without targeting people experiencing homelessness."
The unhoused use the carts to carry around their possessions.
Laven notes the current system of retrieving abandoned carts lacks the proactive measures to stop carts from being taken.
"Currently, staff receive daily calls about abandoned shopping carts in inappropriate locations - parks, creeks, side of roads, private properties, back lanes. When calls come in, the Community Safety Officers (CSOs) or other city staff retrieve the shopping carts, empty them (if required), and store them at City Yards," said the city report. Some stores retrieve them on a regular basis and others not frequently enough.
At any given time, the city can be storing 100 carts.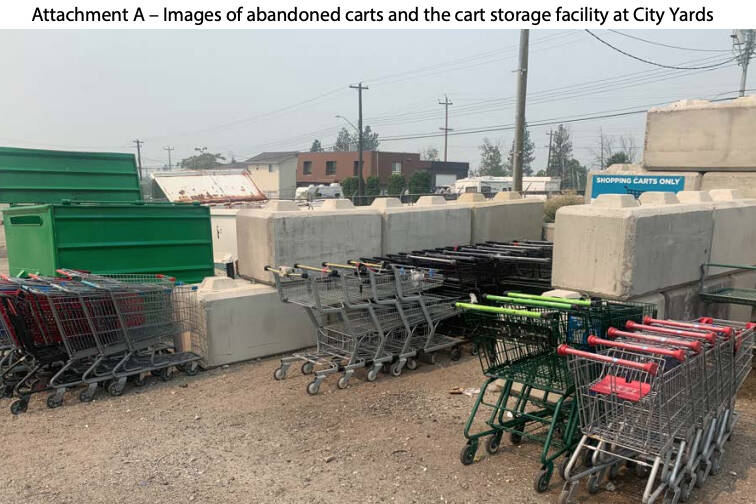 "This is a challenge from a space management perspective … and also a significant amount of staff time is spent on the management of this issue," said the report. The report said the city has already consulted legal counsel on their recommendations.
The recommendations going to council are:
• Businesses must label shopping carts with store information and register contact information with the City
• Businesses must not permit carts to be removed from their premises, by taking 'reasonable measures' to reduce the unauthorized removal of carts, such as utilizing wheel locking technology, GPS chips, hired security or other methods
• Businesses must retrieve carts belonging to the store within a specified time and accept carts belonging to the business
• Appropriate fines to be instituted for violations of the regulations
• Minimal storage fee for cart storage at City Yards
If approved, staff would then develop a regulatory framework for implementation and work with partners, both in the commercial retail sector, and with local social services organizations to ensure those experiencing homelessness have suitable options for transporting their belongings, said the report.
Most grocery store managers agreed that cart theft is a huge issue but they said they are the victims. They didn't like the idea of being fined as is suggested, said the report.
To report a typo, email: editor@pentictonwesternnews.com.
<>
Don't miss a single story and get them delivered directly to your inbox. Sign up today for the Penticton Western News Newsletter.
<>
---
@PentictonNews
newstips@pentictonwesternnews.com
Like us on Facebook and follow us on Twitter.