If you were to travel the length of Canada, from the lighthouse at Cape Spear, Newfoundland and Labrador to the Yukon and Alaska boundary, the trip would be approximately 5,514 km long. In one week, Revelstoke bikers made that trip almost seven times.
Spring GoByBike Week took place from May 29 to June 4. Today, the team at GoByBike Revelstoke released their final tally of the data collected from Revelstoke bikers who chose to cycle to work or school over the week.
According to GoByBike Revelstoke, 1,329 riders on 101 teams in Revelstoke cumulatively travelled approximately 38,438 km over 6,300 trips by bike.
They also added that Revelstoke bikers saved 8,333 kg of greenhouse gasses thanks to their choice to take their bike instead of their gas-powered vehicles.
The team at BoByBike Revelstoke were set up at Grizzly Plaza all week tracking the riders and handing out prizes.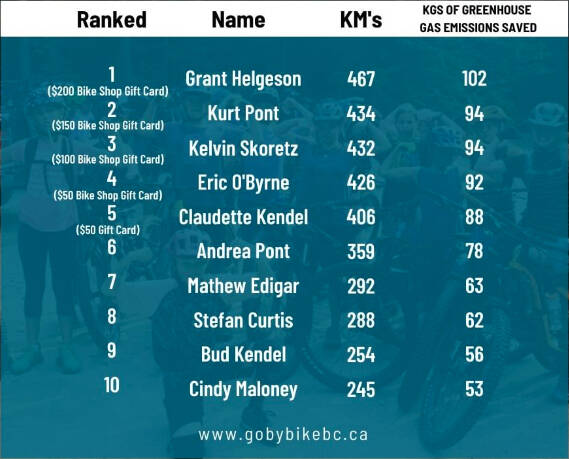 ---
@josh_piercey
josh.piercey@revelstokereview.com
Like us on Facebook and follow us on Twitter.
and subscribe to our daily
newsletter
.