UPDATE: 9 p.m.
An expanded evacuation order in the North Shuswap now includes Magna Bay.
The Columbia Columbia Shuswap Regional District issued the expanded order at 8:24 p.m. on Friday, Aug. 28. People in the area were advised to leave immediately.
Earlier in the evening, the Thompson Nicola Regional District (TNRD) issued an evacuation order for the Turtle Valley area east of Chase. The order includes approximately 135 properties in Electoral Area L.
The TNRD said emergency support services will only be provided if your primary residence is under evacuation order. It noted the Squilax-Turtle Valley Road is closed, and said evacuees should take Skimikin Road and Shuswap-Chase Creek Road to evacuate to Kamloops.
For property owners who need to move livestock, please contact the TNRD Agriculture Liaison directly at 250-377-7188 (extension 2342), or eocaccess@tnrd.ca.
Nearby, the Village of Chase was put on an evacuation alert. The village's Emergency Operations Centre issued the alert in response to the growing Bush Creek East wildfire at 6 p.m. on Friday, Aug. 18.
UPDATE: 7:51 p.m.
All residents of Scotch Creek and Lee Creek are being told to evacuate now.
Highway 1 will be closed imminently between Sorrento and Chase due to the Lower East Adams Lake fire.
Shuswap Search and Rescue is on scene at the Scotch Creek boat launch and are able to take people across the water, they will take personal items and pets.
________
The Shuswap communities of Lee Creek and Scotch Creek are under an evacuation order due to the Lower East Adams Lake wildfire.
The Columbia Shuswap Regi0nal District (CSRD) issued the order around 2 p.m. Friday, Aug. 18.
People in the area of the evacuation order must leave immediately as the 10,000-plus hectare wildfire poses a risk of injury or loss of life.
Evacuees from North Shuswap Electoral Area F are asked to register with the Kamloops Emergency Support Services (ESS) at the McArthur Island Park Sports Centre 1655 Island Pkwy, Kamloops, BC.
Those who need assistance with transportation from the area can call 250-833-350.
Evacuees are advised to close and lock all windows and doors, shut off gas and electrical appliances aside from refrigerators and freezers, gather their families and take pets in kennels or on a leash.
Take critical items only if they are immediately available, the CSRD advises.
People are advised not to use more vehicles than needed. If time permits, check with neighbours and assist those with special needs.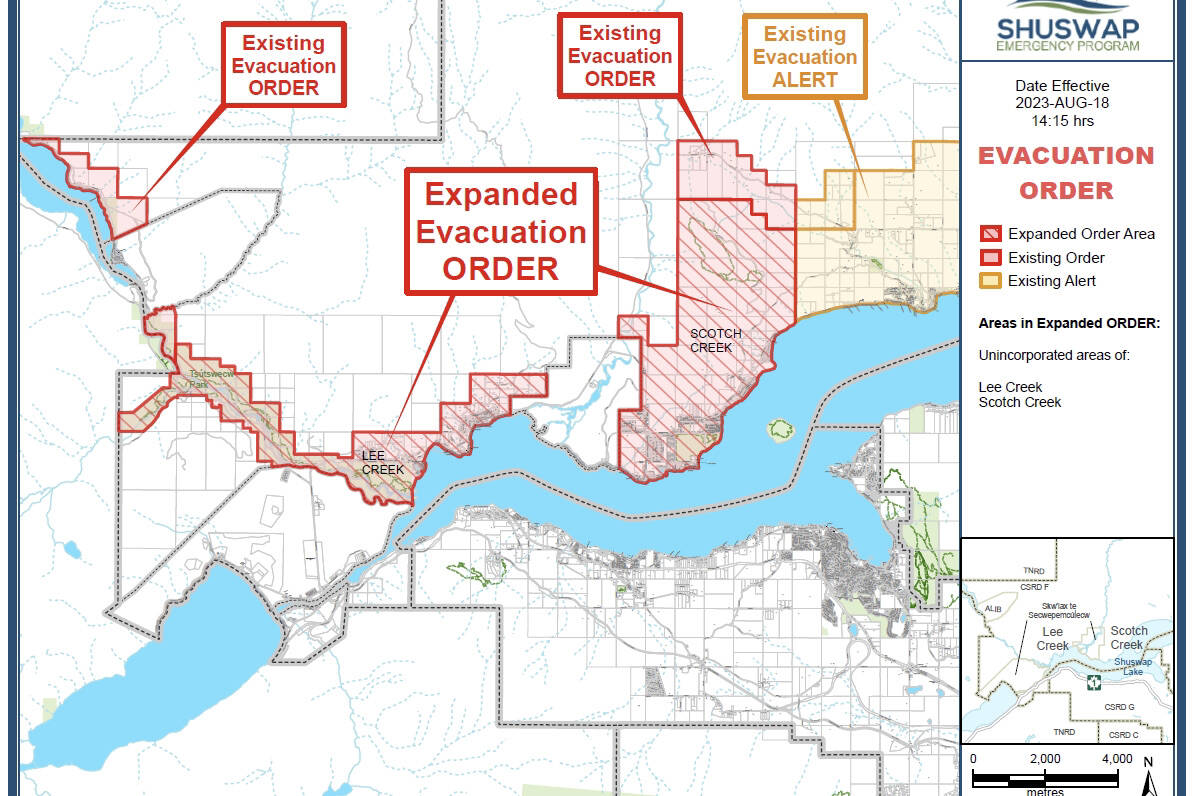 ---
Brendan Shykora