Vernon will not be installing new fencing at Marshall Field, yet.
Council deferred a proposed fencing memorandum, so that they can look at additional options.
In July 2019, council directed administration to install a 1.2-metre high galvanized fence at Marshall Field to separate the soccer fields from the off-leash dog area.
However, to reduce the amount of fencing required, the fencing didn't extend to the entire baseball area. The fencing ended at the west end of the ball diamonds leaving the baseball viewing area, warm up and bull pens/pitching mounds within the off-leash dog area.
This created a conflict between baseball teams and the off-leash dog users.
The need for more fencing has come about due to issues with dogs in the adjacent off-leash field.
"Administration has received a number of complaints regarding the uncontrolled interaction between dogs and baseball field users at this location," the report stated. "Typical concerns that have been raised regarding this issue include: not everyone that plays baseball likes dogs, dogs love to chase/take the baseballs, some dogs are very aggressive, some people are highly allergic to dogs, dogs have urinated all over our equipment/spectator stuff and I have stopped playing the sport I love due to this situation."
The estimated cost to install the fence is $45,000. The Vernon Baseball Association supports adding additional fencing and is willing to donate $10,000 to help fund the project.
Vernon Morning Star received a letter opposing the fencing from Peter Moore.
As a longtime Vernon resident, Moore "like countless other Vernon families, have used Marshall Field Off Leash Dog Park ever since it was designated as such many years ago, and during that time the number of aggressive interactions between dogs and humans could be counted on fewer than the fingers of one hand. When dogs are off-leash, they are calmer and more placid and patently less-aggressive."
He added that "fencing the proposed additional areas of the dog park is unfair to the majority of users of the park and creates a loss of amenity, and $45,000 of unnecessary expense."
No bows for bylaw
There will be no Lord of the Rings style crossbows affixed to bylaw officers. Council voted to remove a section in a bylaw that dealt with exemptions for the discharge of a longbow or a crossbow within the City of Vernon.
With the removal of this section, there is no opportunity for bylaw officers to use a crossbow.
Currently, hunters (in compliance with the Wildfire Act) in properties larger than two hectares in size, farmers, students (while being trained in the use of a bow and arrow, and while under the supervision of a teacher), and individuals involved in an archery competition/practice are the only ones with an allowable exemption to use the ranged weapon.
Funtastic pitch partially proceeds
The Funtastic Slo-Pitch Tournament and Music Festival will not be getting additional assistance from the city for resources for their event, as they cited it would set a precedent for other societies. However, they will get a break with regards to unused ball diamonds.
In their request for additional support, Funtastic asked the city for: field lining twice a day, increased washroom cleaning, no charge for unused diamonds, field drags after two games and general field maintenance. The cost estimated was $9,000.
Council declined assistance for all, except for the no charge on unused diamonds.
"We direct administration to waive the 30-day field use cancellation notice and not charge the Funtastic Society for the diamonds that are not used," said Coun. Kari Gares, "specifically for the tournament.
"This is a very large event, so for them (Funtastic) to request to waive the 30-field use cancellation notice is reasonable, as it does bring a huge amount of economic spin off to our community. "
Bike lanes on Pleasant Valley Road funded
Council has approved the increase in funding for the 32nd Avenue (Pleasant Valley Road to 20th Street) project.
The reconstruction of 32nd Avenue, at this location, includes sanitary, storm main replacement, a new curb, gutter, sidewalk, associated drainage, water and sanitary services. A raised bike path would be built adjacent to a sidewalk and road.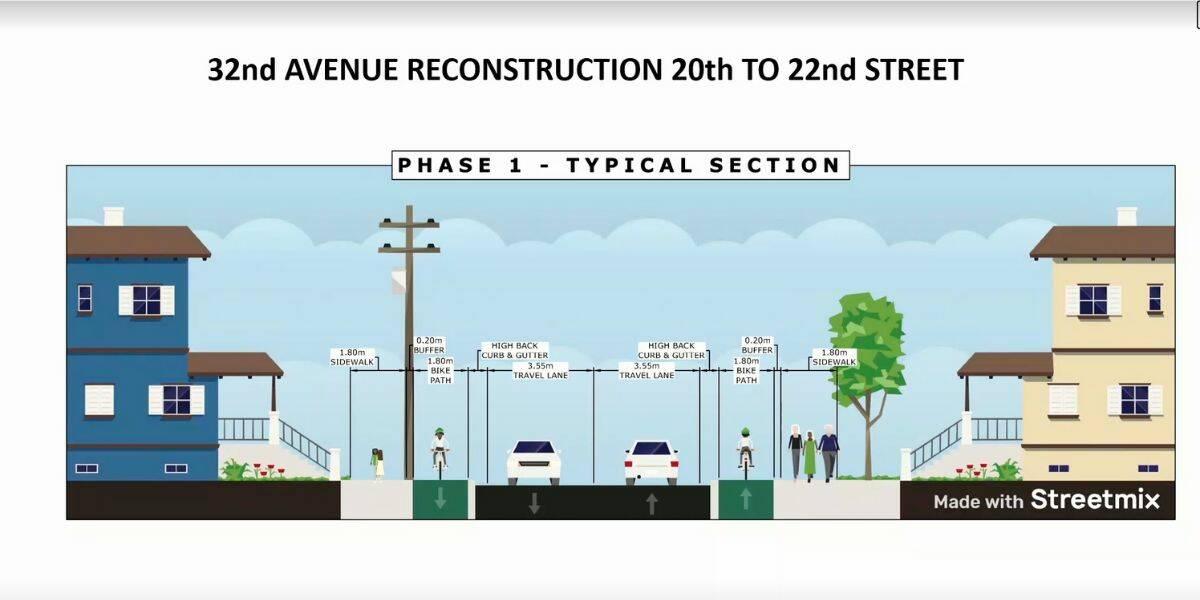 The report asks for $524,388 more money, funded by $362,456 from the Infrastructure Reserve and $161,932 from the Sanitary General reserves. The original project funding of $1,720,000 was approved by council in December of 2022.
Coun. Brian Guy called the increase in costs a "very serious issue".
"A half a million budget increase in five months, which now only leaves $303,000 left in the Infrastructure Reserve Fund, that is getting pretty skimpy," Guy said. "We really need a thoughtful strategy on this."
Buoys afloat
Buoys have been installed at Hurlburt Park, Kin Beach, Lakeshore Park and Paddlewheel Park. They were installed prior to the May long weekend, and Mayor Cummings noted that they have "already been put to use," despite the subpar weather.
---
@B0B0Assman
bowen.assman@vernonmorningstar.com
Like us on Facebook and follow us on Twitter and subscribe to our daily and subscribe to our daily newsletter.