Carson Crimeni would have turned 18 on Sunday.
His father, Aron, and grandfather Darrel, marked the July 2 date by putting up a sign at the Walnut Grove skateboard park where the Langley youngster liked to hang out.
There was a picture of Carson with his year of birth, and year of death, and a message: "Don't be a bystander. Say something."
There were also black balloons and anti-bullying pink balloons that read "Justice for Carson Crimeni."
"I mean, he would have been graduating this year," Aron remarked. "It's very sad to think of."
The pain of his loss definitely hasn't gone away, the grieving dad added.
"Every day is hard," Aron commented. "It's definitely something no parent or grandparent should have to experience."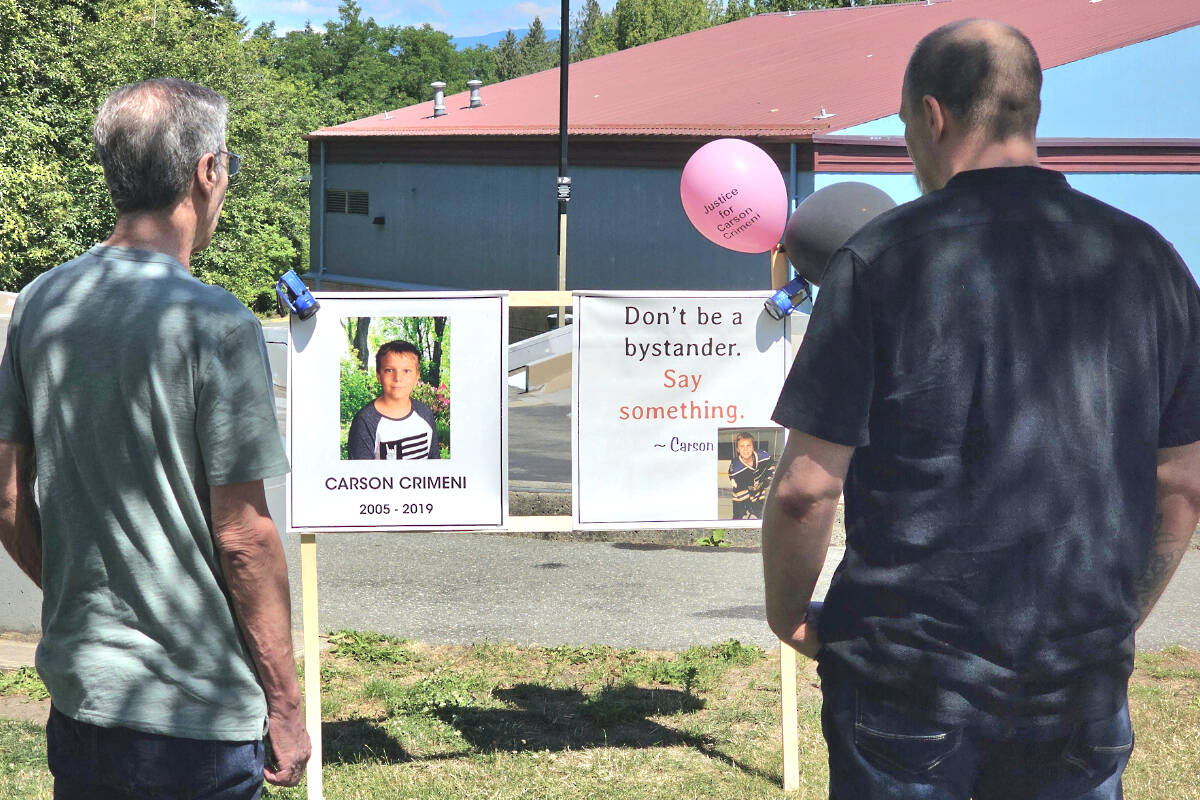 Darrel said the sign was part of the family's continuing effort to raise awareness about the type of bullying they believe caused Carson's death.
"What we're doing today, and we've done in the past, it's just, you know, [to create] more awareness," Darrel told the Langley Advance Times.
As the two men spoke, cars passing by honked their horns in support.
On Aug. 7, 2019, Carson was found in severe medical distress in a park near Walnut Grove Secondary and the Walnut Grove Recreation Centre.
Despite attempts by police, firefighters, and ambulance paramedics to revive him, Carson died later that night in hospital of an apparent drug overdose.
READ ALSO: Carson Crimeni laid to rest
Video clips posted to social media showed the Langley teen was barely able to stand or speak earlier that day, while people could be heard laughing.
"Something needs to be done about the bullying that's going on in schools and the way these kids are treating each other," Aaron said.
After an Langley RCMP investigation that interviewed more than 100 witnesses and followed up on more than 100 tips from the public, one man pleaded guilty to manslaughter.
As part of the plea agreement, the killer, who cannot be named because he was under 18 at the time, will be sentenced as a youth, which means he will serve no more than three years.
A two-day sentencing hearing has been scheduled for Sept. 14 and 15, when the family is expected to make victim impact statements.
READ ALSO: Manslaughter sentencing date set for Carson Crimeni's killer
---
Have a story tip? Email: dan.ferguson@langleyadvancetimes.com
Like us on Facebook and follow us on Twitter.