When the BC Armwrestling Championships pull into the Royal Anne Hotel this month, Kelowna's Gerry Beaudry will be among the competitors looking to add to his impressive accomplishments.
With five world titles, 30 national titles, and 100 provincial titles - the most in the history of the sport in B.C. - Beaudry will be a force to be reckoned with.
"Even though I'm 60 years old I'm beating 40-year-old guys. I can still beat most of the young guys in my division," he says.
Beaudry has been arm wrestling competitively since 1980.
"I became national champion by the time I was 18 for my weight division," he adds. "I had the best arm wrestling coach in all of Canada, Allan Barker."
Barker, a competitor, builder and promoter of the sport, was inducted into the Canadian Armwrestling Federation (CAF) in 2019.
In more than four decades of pulling against the best arm wrestlers in the world, Beaudry says his toughest match was one that pit him against someone who eventually became a good friend.
"Dave Hicks, my buddy from Vancouver. He's won 29 world titles, and he's now traveling the world as the head referee for the World Armwrestling Federation (WAF)."
According to the CAF website, Hicks holds the WAF men's record for most gold medals in all divisions combined.
Beaudry has just returned from the 2023 North American Arm Wrestling Champions in Mexico City as part of Team Canada, winning individual gold.
"It was amazing," he says. "Canada, I think, won nine golds."
Kelowna hosted a world championship in 2008, where Beaudry also won a gold medal. He'd like to see the city host another.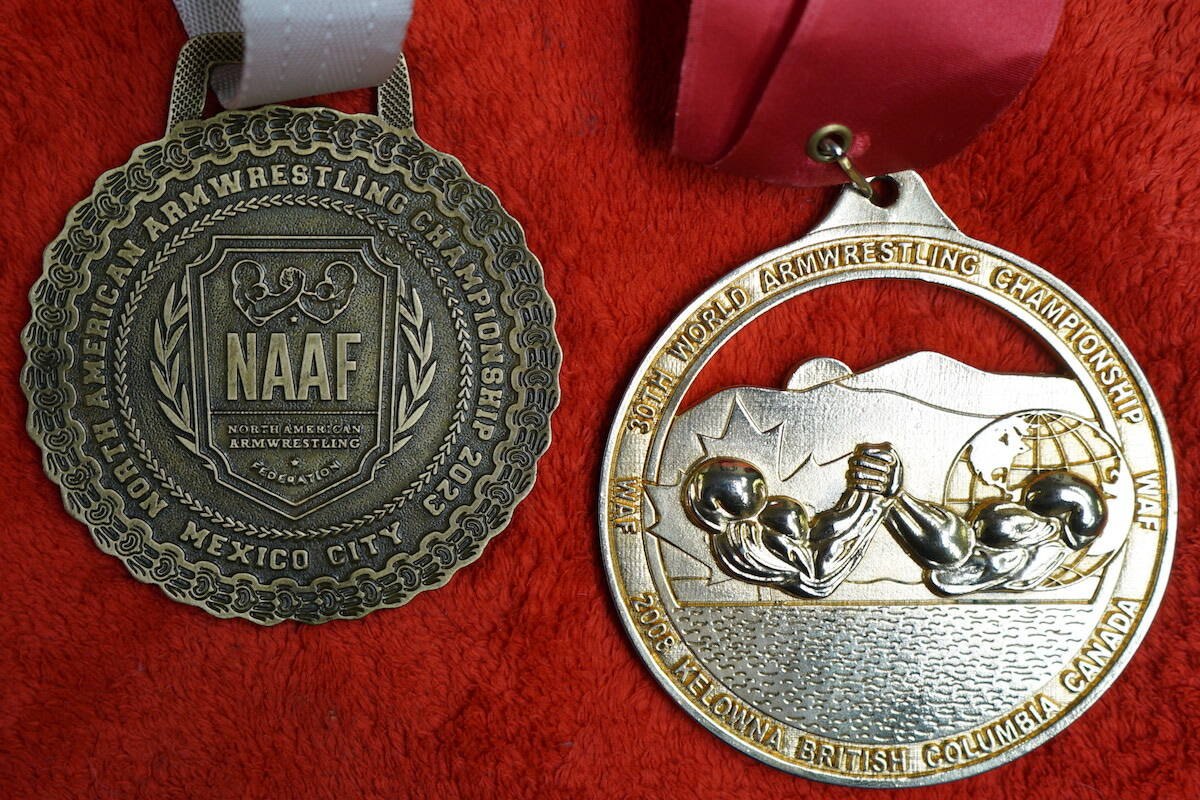 "We had a thousand arm wrestlers from all over the world come, it was a really good show."
While having passion, a good coach, and proper training and technique accounts for much of his success, Beaudry says he couldn't have accomplished all he has without the support of his family.
"My dad raised seven kids and worked from sun up to sun down every day. "He was a longshoreman champion (arm wrestling) in 1946."
When he was a kid, Beaudry would arm wrestle with his sisters, who have supported him many times during his career.
"My sister Claudette helped sponsor me to go to Mexico City. I was training for it and wasn't sure if I was going to go, and then put enough dough together and it worked out good for me," he says.
Beaudry is also planning to start his own arm wrestling club this year.
"I'd like to pass on some of my coaching, strength training tips and experience. It's something almost anyone can do. There are a lot of people competing who are 60."
As the provincial championships draw closer, Beaudry is following his regimen of chin-ups, push-ups, and planks, along with hand grip, wrist strengthening and endurance training to get prepared.
"Usually my weight division is up to 25 guys in one day," he says. "You have to win at least 10 to 12 matches."
The BC Armwrestling Championships will be held April 23 at the Royal Anne Hotel.
This year's event is dedicated to Dave Hicks who is the head referee.
---
@GaryBarnes109
gary.barnes@kelownacapnews.com
Like us on Facebook and follow us on Twitter and subscribe to our daily and subscribe to our daily newsletter.