Notice is hereby given that City of Vernon Council is considering initial readings of the following Zoning Amendment Bylaw pursuant to the Local Government Act:
2206 32nd Street Rezoning Amendment Bylaw 5954, 2023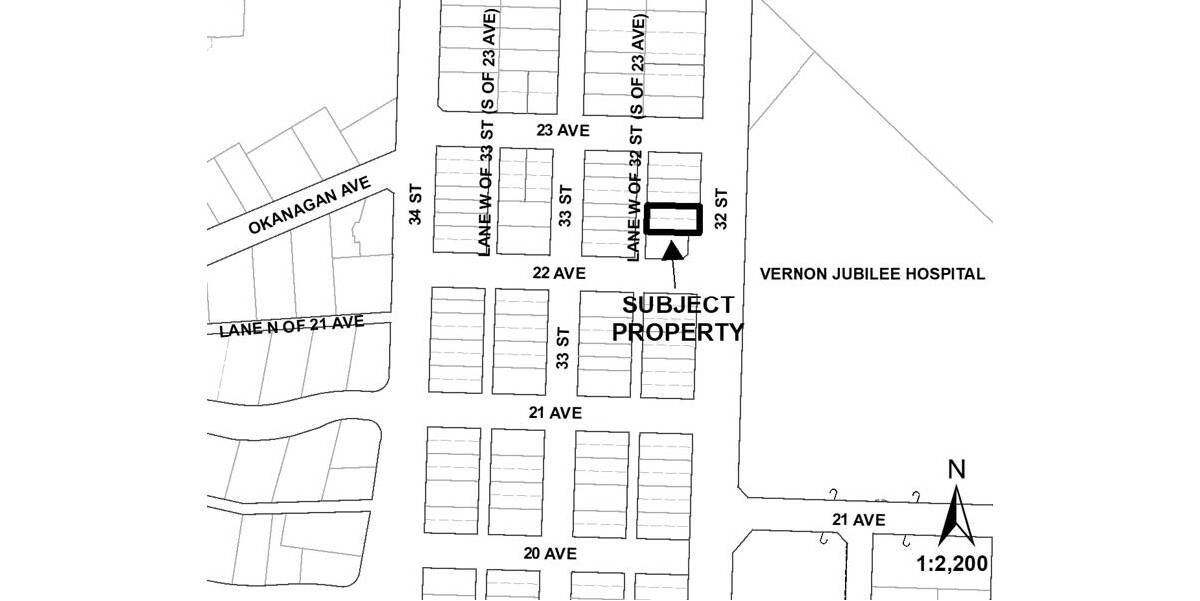 Location: 2206 32nd Street
Legal Description: Lot 11 and Lot 12, Blk 2, DL 73, ODYD, Plan 225
Purpose: Bylaw 5954 is to rezone the property from R2 – Large Lot Residential to RM1 – Row Housing Residential in anticipation of constructing a semi-detached house (side-by-side duplex).
Present Zoning: R2 – Large Lot Residential
Proposed Zoning: RM1 – Row Housing Residential
First Reading: Council will consider giving Bylaw 5954 first, second and third readings at the Regular Council meeting scheduled for Monday, March 27, 2023 at 1:30 p.m. in the City Hall Council Chamber located at 3400 30th Street, Vernon, B.C.
Enquiries relative to the above proposed bylaw should be directed to the Community Infrastructure and Development Division located at the Community Services Building, 3001 32nd Avenue, Vernon, B.C. or by calling 250-550-3634. A copy of the proposed bylaw and relevant background documents are available for inspection during normal business hours (8:30 a.m. - 4:30 p.m.), Monday to Friday inclusive (excluding Statutory Holidays) from March 16 to March 27, 2023. Documents may also be viewed at www.vernon.ca/zoningamendments.