A legend in the hockey world made his first ever trip to British Columbia for a good cause this weekend.
Back in February 2020, David Ayers put himself in the record books and became an instant NHL legend. While working as a building operator for the Toronto Maple Leafs, he was listed as the emergency goaltender (EBUG). On that night, February 25th, the 42-year old Ayers finally got his name called by the Carolina Hurricanes and led them to a win over Toronto, becoming the first emergency goalie to win a game and the oldest goaltender ever to get a win in their NHL debut.
Since that moment, Ayers has been etched in hockey history. As more and more information came out about him, it became known that Ayers became sick back in 2004 and needed a kidney transplant, which he received from his mom. Carolina even made shirseys (t-shirt jerseys) with Ayers' name and number on the back and sold them with the money going to him because he wasn't on an NHL contract. Instead, Ayers donated the money, split between the Kidney Foundation of Canada and the American Kidney Fund.
Upon learning about this, Kelowna resident Craig Mikaychuk instantly reached out to Ayers because he has also had a kidney transplant and plays goalie in his men's league. He reached out just to pick Ayers' brain and compare notes of how they play goaltender while protecting their kidney area. As time went on, Mikaychuk, who is a volunteer for the Kidney Foundation of Canada, approached Ayers with the idea of hosting a golf tournament to continue to raise money for the foundation. Ayers immediately said yes.
And that's why Ayers made his first trip ever to B.C. this weekend as the first annual Kidney Foundation golf tournament took place at Okanagan Golf Club on Friday, July 7.
"I've done a lot of stuff for the kidney foundation to raise awareness and we're here to take donations," said Ayers. "For me, being able to give back to the foundation and raise awareness for organ donations, all different kinds, not just kidney."
According to both Ayers and Mikaychuk, the first annual golf tournament was a great success. Mikaychuk set a goal to raise $5,000 and after the golf tournament, they were almost at $10,000.
On Saturday, the events continued as Ayers was signing autographs for the public at Players Choice Sports. Many people showed up to meet the famous goaltender as well as get an autograph and a photo.
"Stores like this, I love these kind of things," said Ayers. "To meet these people and with all these different stories and why they collect, it's really cool to meet all the people coming through."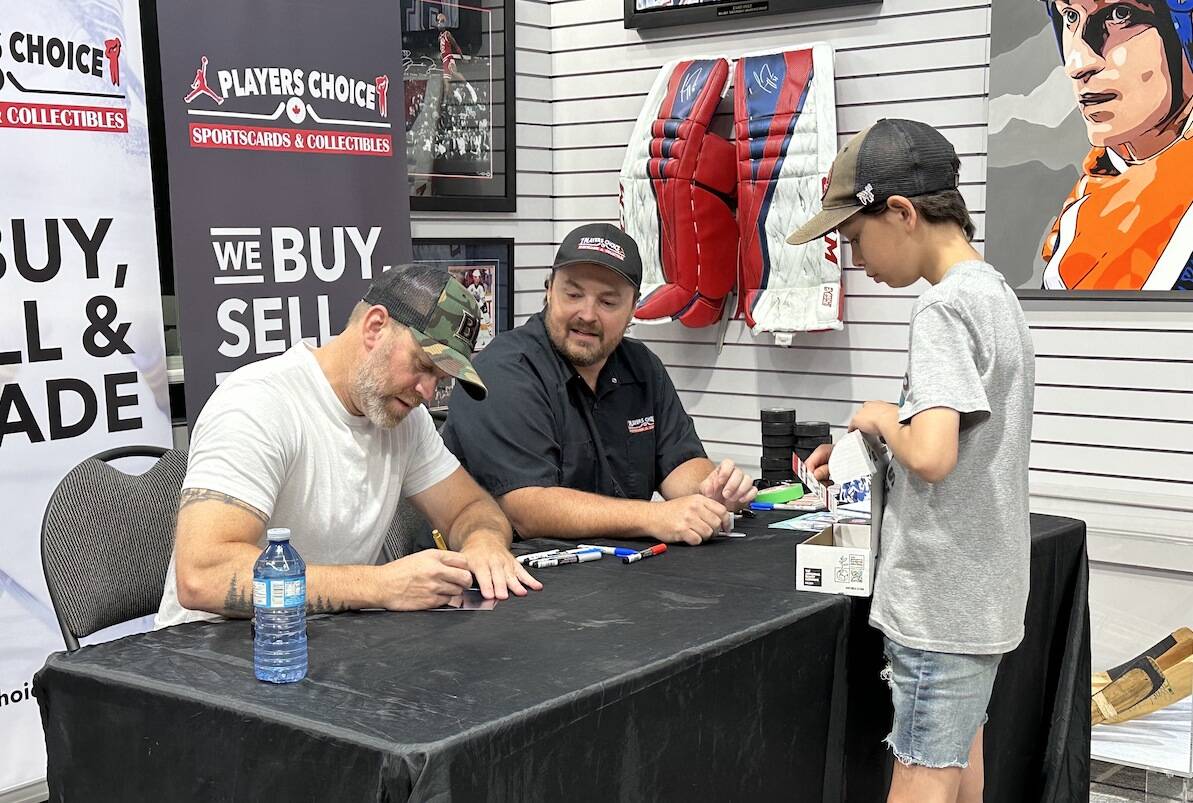 While the signing was ongoing, Mikaychuk was selling some merchandise and all the money from sales were being added to the foundation raised.
Because of the success of the golf tournament, Mikaychuk and Ayers will be making it an annual event and already have begun to plan for next year.
After the experience of the events, as well as the weather, Ayers said he doesn't want to leave Kelowna yet and plans to be coming out to B.C. more often.
"I don't want to go home," said Ayers. "There's nothing like this, everything you want is here."
---
@cunninghamjordy
jordy.cunningham@kelownacapnews.com
Like us on Facebook and follow us on Twitter.