Good morning everyone! Let's get your Wednesday started!
Fun Fact: An opossum has taken over the visitor's broadcast room at Oakland-Alameda County Coliseum, home of the Oakland's A's.
Last night, Gary and Ron shared the story of how they got moved out of the visiting television booth thanks to a possum 😂 pic.twitter.com/t3aK3siEzT

— SNY (@SNYtv) April 15, 2023
On this day
In 1775, the American Revolution starts in Lexington, Massachusetts.
In 1915, Canadian Édouard Fabre wins the 19th annual Boston Marathon.
In 1926, Canadian Johnny Miles wins the 30th annual Boston Marathon.
In 1937, Canadian Walter Young wins the 41st annual Boston Marathon.
In 1943, Canadian Gerard Cote wins the 47th annual Boston Marathon. It was his second of four times winning the event.
In 1948, the American Broadcasting Company (ABC) television network debuts.
In 1960, MLB players wear their last names on their jerseys for the first time.
In 1971, Charles Manson is sentenced to life in prison for murdering actress Sharon Tate.
National holidays
Today is National Garlic Day, Wear Pajamas to Work Day, and Undergraduate Research Week.
Weather forecast from Environment Canada
In Kelowna

In Penticton

In Revelstoke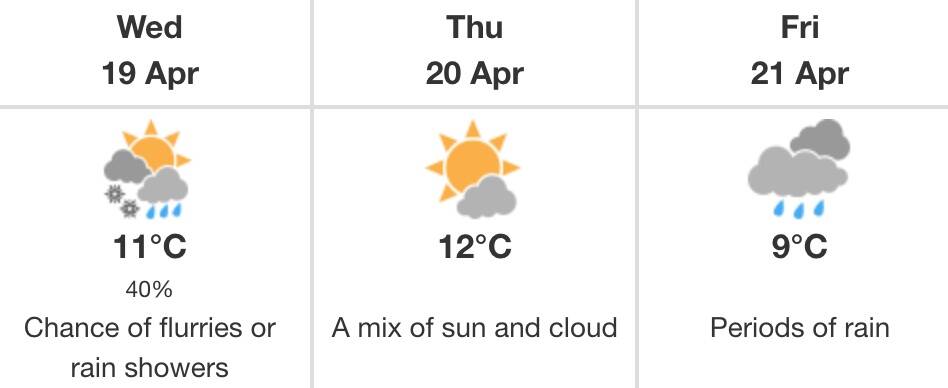 In Salmon Arm

In Vernon

In case you missed it
BC Highway Patrol, RCMP looking for wanted woman with multiple warrants who frequents Kelowna, Summerland
One person died in Summerland house fire
Salmon Arm Legion donates $8,000 to local Cadets
Trending
106 days after suffering cardiac arrest on an NFL field, Buffalo Bills safety Damar Hamlin is now allowed to fully workout and get ready to play football again!
Update: #Bills Safety Damar Hamlin has been "fully cleared", according to GM Brandon Beane.

What a story 🙏 pic.twitter.com/PXfGpU6qCq

— Dov Kleiman (@NFL_DovKleiman) April 18, 2023
Celebrity birthdays
If your birthday is today, you share a birthday with actress Kate Hudson (44), actor Hayden Christensen (42), actor Simu Liu (34), actor James Franco (45), tennis player Maria Sharapova (36), actress Ali Wong (41), WNBA star Candace Parker (37), and actress Ashley Judd (55).
Have a great day everyone!
---
@cunninghamjordy
jordy.cunningham@kelownacapnews.com
Like us on Facebook and follow us on Twitter.