The entry-luxury utility bracket provides plenty of choices that are small in stature. The Lexus UX, which joined the segment for 2019, is now in a unique position as the only one that's exclusively hybrid-powered.
The littlest Lexus — called the UX 250h for 2023 — continues the automaker's current design philosophy, starting with an oversize spindle grille that dominates the front end. The rest of the body is replete with knife-edge bumps and angles that extend all the way back to, and include, the rear hatch. The taillights are joined by a translucent red ribbon that appears to double as a spoiler.
To keep the weight down, the doors, hood and fenders are made of aluminum, while the hatch is made of a plastic-like composite.
Compared with the one-size-larger Lexus NX, the UX is shorter by about 18 centimetres. The distance between the front and rear wheels, however, is shy by only five centimetres. That, plus a lower roofline, results in a tight squeeze for rear-seat passengers, especially if those up front adjust their seats farther back.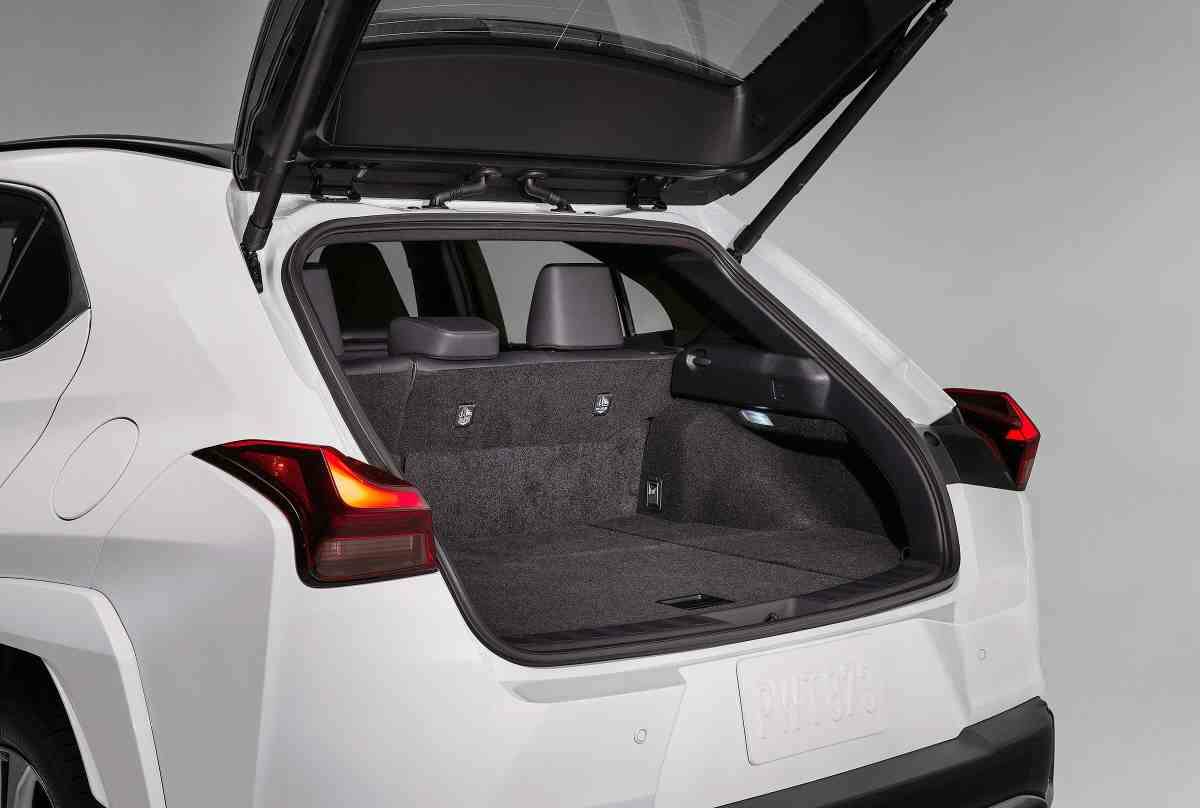 The cargo area behind the rear seat is modest compared with most of the competition, but at least the split-folding rear seat-back lowers completely flat for added stowage space.
The dashboard contains a central digital gauge directly in the driver's line of sight, redundant pushbuttons on the steering wheel and eight climate control switches on the instrument panel.
The standard 8.0-inch display is thankfully no longer operated by a touch-pad on the console: it's now a true touch-screen. There's a newly available 12.3-inch infotainment display with voice recognition.
The six-speaker audio system can be upgraded to an eight-speaker setup. USB ports — two at the front and two for the second row — are available for all passengers to charge their devices.
With the cancellation of the 169-horsepower gasoline engine, the previously optional hybrid powertrain becomes the sole motivation for 2023. The system's three electric motors include two that directly assist the 143-horsepower 2.0-litre four-cylinder engine, plus one to drive the rear wheels. The net output is 181 horsepower. A continually variable transmission is standard.
The UX 250h's fuel consumption is rated at 5.7 l/100 km in the city, 6.2 on the highway and 6.0 combined.
The attendant battery pack located beneath the rear seat doesn't negatively affect the vehicle's already meager cargo capacity.
The all-wheel-drive system only functions up to about 80 km/h. Any faster and it's front-wheel-drive all the way.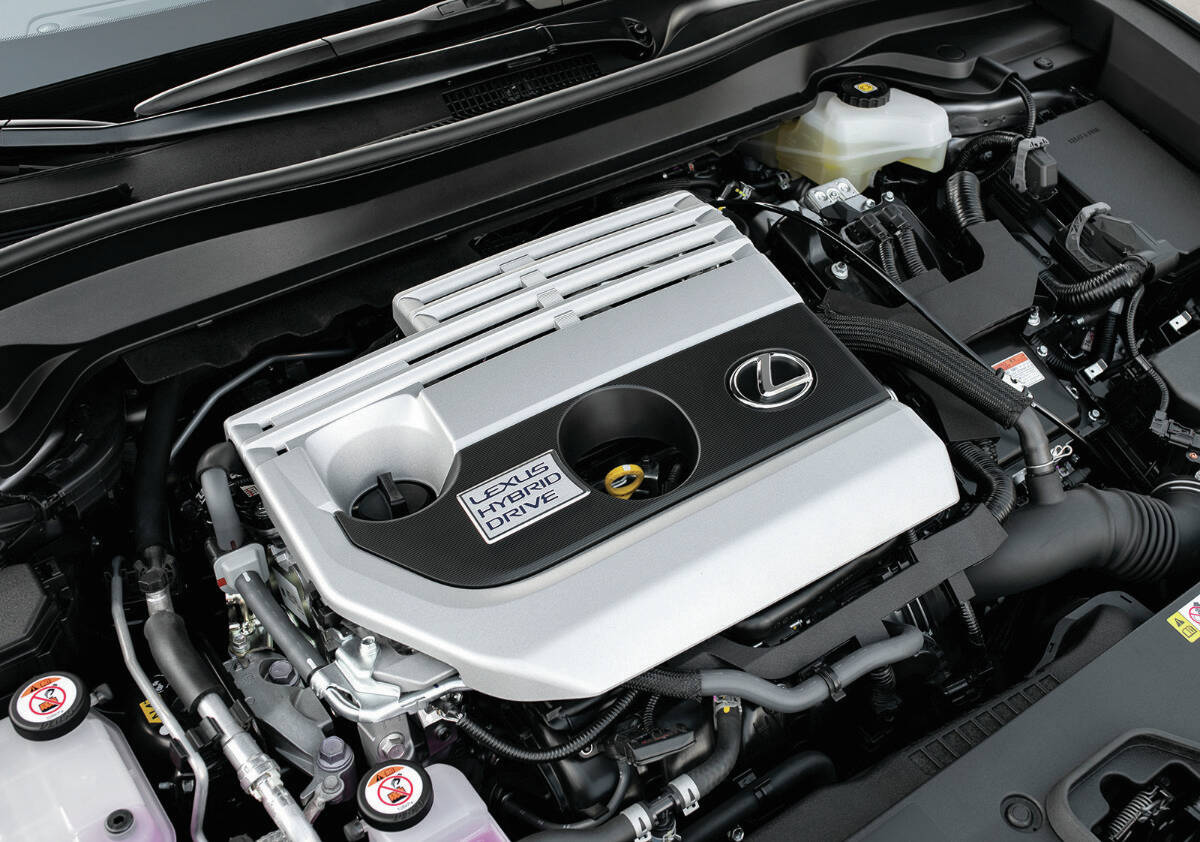 The UX fires up quietly, launches smoothly and cabin noise is kept to a minimum. There's sufficient thrust, but under aggressive acceleration the powertrain is slow to respond. According to Lexus, the UX can hit 60 mph (96 km/h) from rest in 8.4 seconds. That's not swift, but it's adequate.
Ride quality and steering precision are strong points as is the interior fit and finish.
At a starting price of $45,400 including the destination charge, the UX 250h arrives with plenty of standard equipment. The base model includes active-safety technologies such as emergency braking plus lane-departure warning and pedestrian detection. Backup alert and blind-spot warning are optional, as is a power moonroof and a hands-free power-opening hatchback. These features come with the Premium trim level, along with heated and ventilated front seats.
The optional F Sport Design comes with unique 18-inch five-spoke wheels with run-flat tires, LED fog lamps and color-keyed exterior trim. The F Sport Handling option includes sharper suspension tuning and sport-style front seats with added bolsters.
The UX 250h does have its limitations – and benefits – because of its compact dimensions and modest power. But its excellent fuel economy and fun-to-drive demeanour make it worth considering.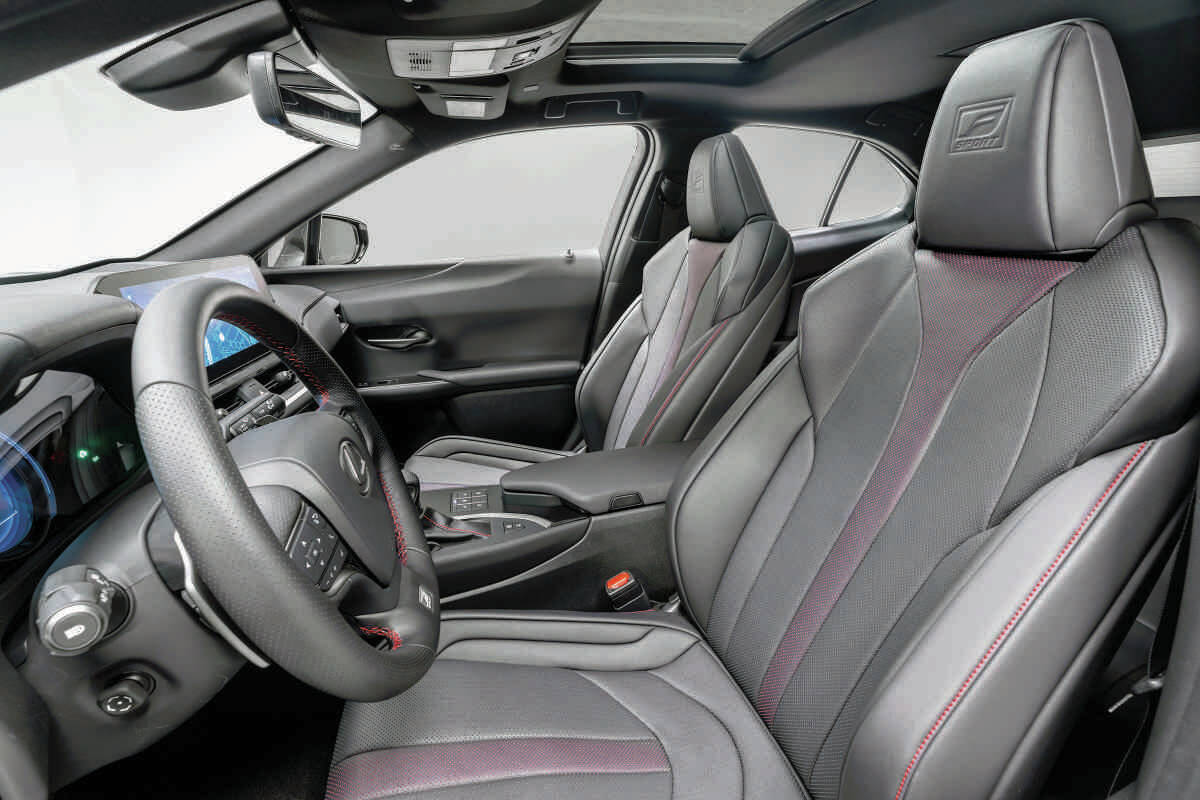 What you should know: 2023 Lexus UX 250h
Type: All-wheel-drive compact utility vehicle
Engine (h.p.): 2.0-litre I-4 with three electric motors (181)
Transmission: Continuously variable (CVT)
Market position: The UX hybrid is the smallest and most affordable vehicle in Lexus's lineup and competes against similarly sized and priced compact utilities from Audi, BMW, Cadillac and Mercedes-Benz.
Points: Edgy design is a Lexus hallmark. • Interior styling gives off a quality vibe. • Hybrid power system emphasizes fuel economy over performance. • Continuously variable transmission is smooth. • Limited cargo space compared with other premium compact utilities might dissuade some folks. • Should entice more youthful buyers into Lexus showrooms.
Active safety: Blind-spot warning with cross-traffic backup alert (opt.); active cruise control (std.); front and rear emergency braking (opt.); inattentive-driver alert (std.); lane-departure warning (std.); pedestrian/cyclist detection (std.)
5.7/6.2 Base price (incl. destination): $45,400
BY COMPARISON
BMW X1 xDrive28i
Base price: $49,750
Redesigned 2023 model has a 241-h.p 2.0-litre turbo I-4. AWD is standard.
Audi Q3
Base price: $43,800
All-wheel-drive compact offers two turbo I-4s making 184 and 228 h.p.
Cadillac XT4
Base price: $41,100
Smallest of the brand's utilities comes with a 235-h.p. turbo I-4. AWD is opt.
– written by Malcom Gunn, Managing Partner at Wheelbase Media
If you're interested in new or used vehicles, be sure to visit TodaysDrive.com to find your dream car today! Like us on Facebook and follow us on Instagram