Smartly dressed in a velour blazer over a Nine Inch Nails t-shirt, Mike Chisholm smiles at a laptop camera from his basement podcast studio, which is designed with a backdrop of the New York City skyline.
He's smiling because David Letterman knows who he is.
It was podcasting that connected the Kelowna financial planner to one of the most popular, now-retired, late-night American TV show hosts.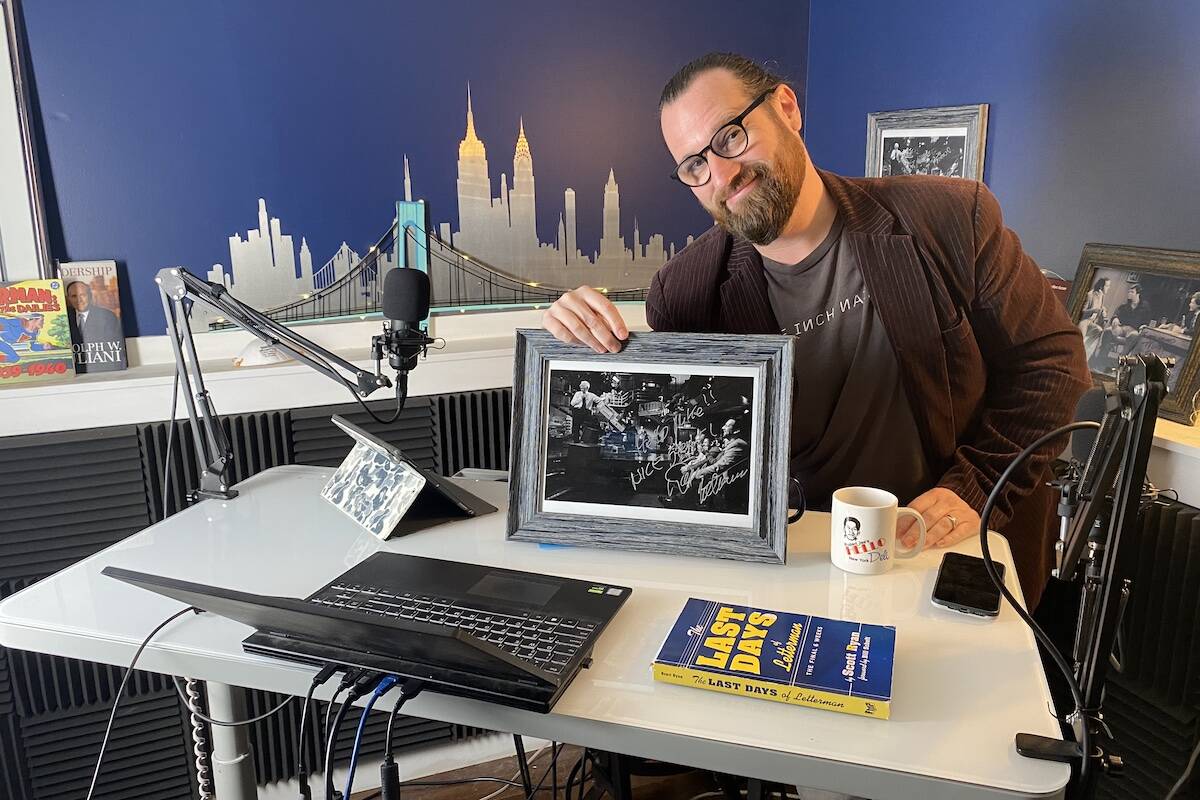 Chisholm started to host 'HeCast' during the pandemic, addressing men's health through candid, honest discussions with life coaches and counsellors. The podcast was created to complement an app developed by his partner Candace, called 'He Changed It,' which looked to create a safe space for men to connect those with lived experience to those looking for help.
In HeCast, Chisholm spoke with other men about what brings balance to their life – for some, it was starting a garage band, and for others, it was a hockey pool.
Chisholm decided what he was missing was to live out his love for broadcast and late-night television. On April 20th, 2022, he created the Letterman podcast, with no advertising and no goal in mind.
Of course, quintessential moments from the Late Show were no joke to Chisholm, who gushes about his prolific knowledge of Letterman. In fact, he wrote a manifesto which would later publish online at 14,000 words, describing the moment he first met Letterman before the late night host retired in 2015.
Holding up a signed photo of that show, Chisholm laughs: "It's hard to get in and see a guy like Dave. But I had this thing in my head that I had to see him."
Letterman came out before the show, riffed with the audience, and Chisholm captured the late-night host's attention. Sitting in the front row in a salmon-coloured jacket, Chisholm also catches the eye of a New York Times journalist in the audience.
"I am being a brat and he is looking at (band leader) Paul (Shaffer) asking, 'What's going on with these Canadians, aren't they suppose to be nice?'
"Dave starts using me, then and there, as a comedy speed bag, and that moment got immortalized in the New York Times, by Pulitzer prize-winning photographer Damon Winter."
From there, the Telus grant winner who will have his podcast broadcast to Optik TV has submersed himself into the depths of CBS Late Night, to the point the sandwich shop next door to the Ed Sullivan Theatre sponsors Chisholm's Letterman podcast. Hello Deli was made famous by owner Rupert Jee and his 400-plus appearances on the Late Show with David Letterman.
Chisholm also garnered the attention of Letterman's sidekick Shaffer.
"I celebrate the good things, I love behinds-the-scenes things."
To commemorate the first anniversary of the Letterman podcast, Chisholm had him on the show.
"Having a former CBS producer on the show was one thing, but having Paul on is the biggest thing ever."
In the last year, the Letterman podcast has had more than 50 different guests, spanning 60 episodes of about 90 minutes each. These are closely monitored for factual information by Don Giller, the unofficial archivist who works with WorldWide Pants, a television and film production company founded and owned by Letterman.
While Chisholm can remember pointed moments from the 9/11 speech to the mocking of American politician Sarah Palin, the Gen X'er's knowledge of Letterman is no match for Giller, who owns copies of the 6,028 episodes Dave aired during his 30-plus years on NBC's Late Night and, later, the CBS Late Show.
Chisholm has met with the super fan in New York City.
"They (WorldWide Pants) know who I am, and realistically, I have always wanted to be a broadcaster, so this is the closest I have ever got. And, you never know what the future could hold."
He said his podcast is about the history, with no drama. It's more about the show, as he puts it: "Being a Canadian means Chisholm isn't polarized by politics, which makes it more intriguing for those at WorldWide Pants, who aren't fans of the drama that surrounds live television."
Up next on the podcast is the creator of the Emmy award-winning show How I Met Your Mother, Carter Bays.
But, the big question is whether Chisholm will one day get the opportunity to interview Letterman.
"I would love to interview Dave, but then again, maybe not – he isn't nuts about talking about the past. He is all about what is going on now, not the Late Night Show."
Unlike Jonny Carson, Letterman's mentor, who left Late Night television and never really returned to the spotlight, Dave went on to host My Next Guest Needs No Introduction on Netflix, among other projects.
---
@Jen_zee
jen.zielinski@bpdigital.ca
Like us on Facebook and follow us on Twitter and subscribe to our daily and subscribe to our daily newsletter.