After months of construction and many hours of hard work, Dr Aaron Barrie is excited to officially welcome all existing and new patients to his new Vernon practice, Monashee Optometry. With both an experienced team of eye-care professionals and the latest high-tech equipment, sharing a comprehensive, more comfortable eye care experience that can monitor for conditions such as glaucoma, cataracts, retinal detachments and macular degeneration to name a few.
Meet the team
Dr. Aaron Barrie, the owner of Monashee Optometry has been practicing for 16 years, the last 11 being in Vernon. The vision behind Monashee Optometry was to make a visit to the optometrist comfortable, and relaxing with the primary focus being the health of the eyes. Dr Barrie is excited to offer the latest in eye health technology, offering more screening during a routine eye exam with the Maestro II OCT and Optomap!
Dr Barrie is grateful to have a great team on board, including Deb Bristow, a licensed optician boasting more than 30 years of experience Deb has one goal: to find you the absolute perfect fit when it comes to glasses and or contacts!
"I'm very excited to work with Dr. Barrie and to continue to serve the amazing community of Vernon," Bristow says.
The rest of the team includes operations manager Lauren Barrie, who worked alongside Dr Barrie to handle the business side of starting Monashee Optometry and is now running the day-to-day operations. Monashee is also joined by optometric assistants Makenzy and Michelle, who will help you with pre-testing and selecting the perfect frames!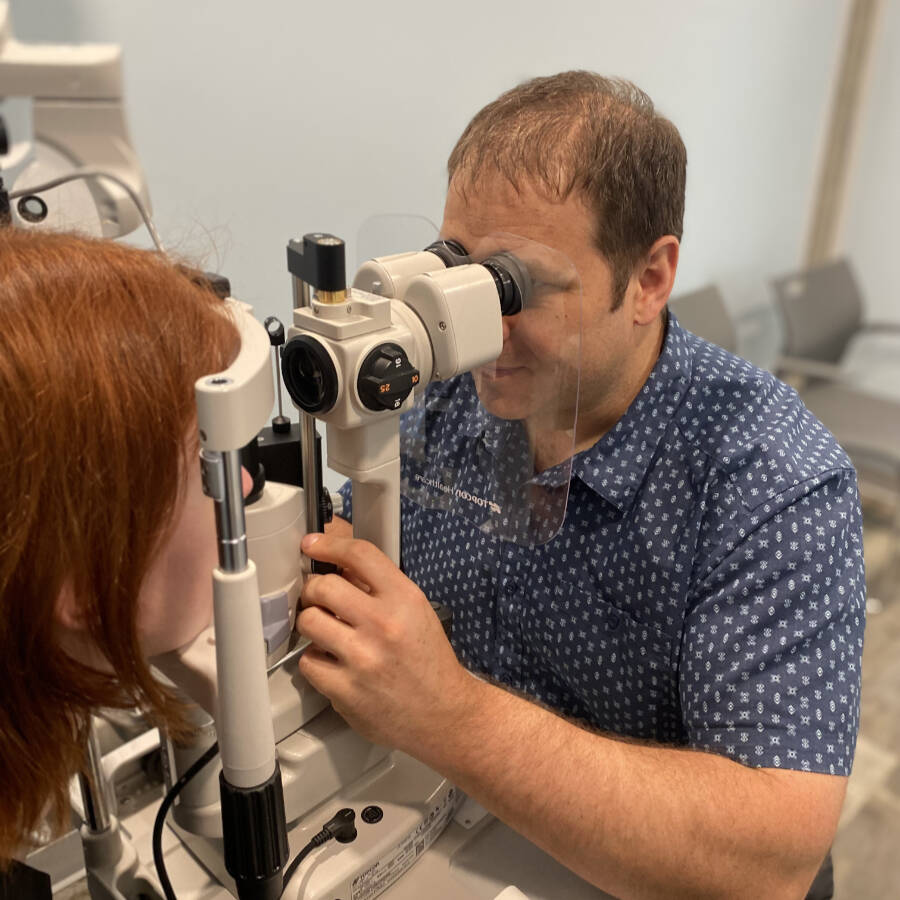 The right tools for the job
While this amazing team is certainly a main draw, what really sets Monashee apart is the technology.
Remembering how uncomfortable the air puff test was as a child, Dr. Barrie wanted to ensure his patients were as comfortable as possible. So Monashee replaced the air puff test with the iCare tonometer and uses the Optomap, an ultra-wide field camera to take pictures of the back of the eye, reducing the need for dilated exams over time as part of a comprehensive eye exam.
They also use a Maestro II OCT – essentially an ultrasound for the eyes – to establish a baseline and monitor for glaucoma.
"The OCT can also be used to monitor macular degeneration," Dr Barrie says. "This test will become particularly powerful as we monitor for change over time."
Beyond vision needs, regular eye testing also monitors for many debilitating eye conditions like glaucoma, macular degeneration, cataracts, retinal detachments and more. The Monashee team also performs foreign body removal and offer emergency eye care, and offers a full service optical, accepting all valid prescriptions
"We welcome patients of all ages to our clinic," Dr Barrie says. Book your appointment online here or over the phone at 250-550-1124. Visit in store at 104-3409 28th Ave.