The Okanagan Indian Band's powwow tradition will see a resurgence this weekend, in honour of a former band councillor who was a champion of the community.
The first Komasket Powwow will take place at the new arbor in Komasket Park Saturday, June 10, and Sunday, June 11.
The event is in honour of Emery Robins Sr. (Kel-ta-muka), who on top of being a former OKIB councillor was a loving husband, father, brother, grandfather and uncle to many. He played an integral role in building the OKIB's powwow community and was a founding member of the powwow committee when the OKIB held its first powwow in the 1980s.
Robins Sr. had formed the Little Hawk and Birch Creek drum groups and had travelled across Turtle Island to share his songs, love and passion for powwows.
After the passing of Robins Sr. about eight years ago, the OKIB's Grant Louis and Viola Brown started talking amongst one another and laying the groundwork for this weekend's powwow.
The event organizers anticipate a high attendance rate, with confirmation of attendance by people from all across B.C. and out of province. A planning committee has worked hard to gather support and donations to host the public event.
The event will feature traditional powwow dancers and drum groups from across North America, as well as Hoka Sound, a company from Oklahoma that will provide audio and will also be broadcasting the event live on 101FM.
There will also be a performance by Cree Confederation, an award-winning powwow drum group that won first place at the world's largest powwow, the Gathering of Nations, held in New Mexico.
Here is the full event schedule: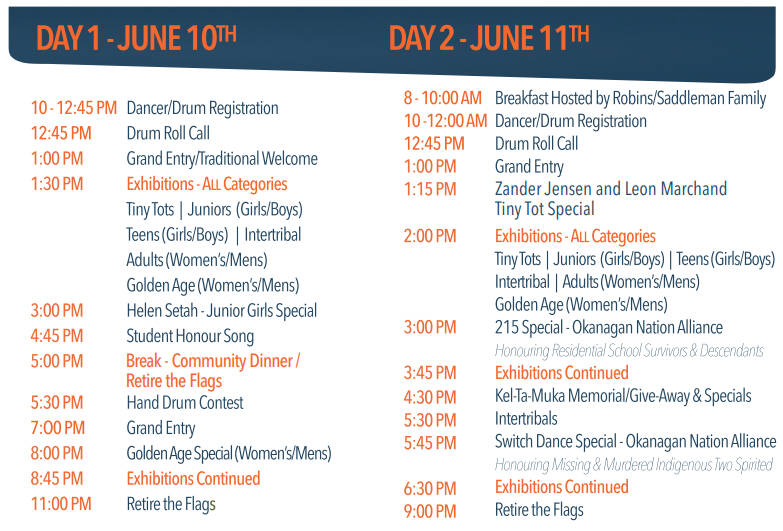 There will be six local food vendors and 22 craft vendors selling a mix of First Nations art and crafts.
Seventeen sponsors and contributors have donated to ensure the event is a success.
A community dinner will be held to honour Robins Sr., and a presentation will be provided by the Vernon School District.
There will be a powwow raffle and door prizes, and 50/50 tickets will also be sold.
---
Brendan Shykora