Fox Plumbing, Heating, Cooling and Electrical will roll out two specially wrapped charity vans for the second year in a row. Expect to see the special Animal Auxiliary Thrift Store van and the new winner's van rolling through town starting early in March.
"Our 'Wrap a Van' community initiative is a fun way for us to promote and support local organizations within the communities we serve," says owner, Ted Fox. "We're excited to be able to support two organizations again this year."
Fox has run their annual 'Wrap a Van for a Cause' event since 2022, inviting the public to nominate and vote for Thompson Okanagan nonprofit organizations. A special vehicle wrap on a Fox service van raises awareness of the organization, and five per cent of the revenue generated by that van is donated to the organization for the entire year.
Due to supply chain and shipping complications in 2022, Fox opted to run the 2022 winner's van (North Okanagan Community Chaplaincy), for a second year in 2023 alongside the 2023 winner, Animal Auxiliary Thrift Store. Owner Ted Fox has since decided to keep the tradition going, running two charity vans again in 2024, one promoting the 2023 winner and a second promoting this year's winner.
"Supporting and showing pride for our communities has always been a top priority for us and when considering whether to run one or two charity vans again this year, well the decision was obvious: if we can support two charity vans, why wouldn't we?" Fox says.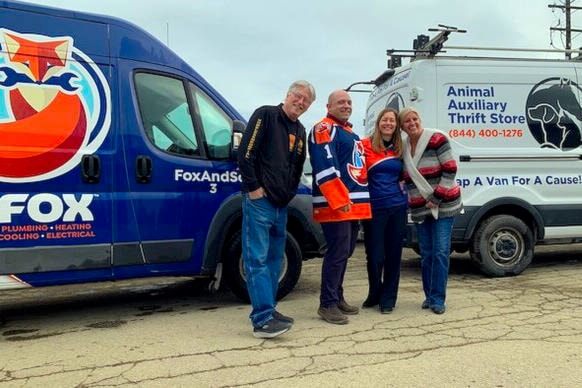 Have an organization that you want to nominate?
Nominations for the 2024 charity van open on Dec.1, with voting starting early in the new year. Nomination requests can be made online at www.foxandsons.ca/charityvan, all nominations must be submitted by 4 p.m. on Dec. 22. Only 32 organizations will be accepted to ensure the March Madness style bracket is manageable and gives each organization a bye during the voting period. Marketing Manager, Kara Cassidy, will reach out to each nominated organization prior to the voting period to ensure nominees acknowledge and accept their nomination. Voting will take place again through the website Monday January 8th. All announcements will be posted on their social channels on Facebook and Instagram. – follow them for updates and the opportunity to nominate and vote for your favourite nonprofit organizations.
Fox Plumbing, Heating, Cooling and Electrical has been serving communities in the Thompson Okanagan since 1999. For service requests visit them online at foxandsons.ca or call them at 1-833-793-4569.
READ MORE from Fox Plumbing, Heating, Cooling and Electrical:
8 warning signs your furnace may be on its way out
What to check on your furnace, and when to consult a heating professional